Advanced Fluoropolymer Coatings Stand the 'Test of Time'
Age is Just a Number for Advanced Fluoropolymer Coatings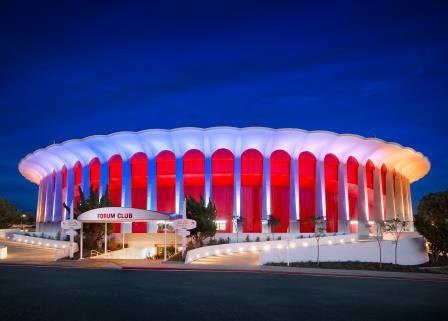 From castle turrets to landmark water towers, Tnemec's family of advanced fluoropolymer exterior finish coatings have been leaving a lasting impression on award-winning projects across the U.S. and Canada for the past 15 years. Since 2001, Tnemec fluoropolymer coatings have been sold to the potable water storage tank and architectural markets under the HydroFlon and Fluoronar brand names.
The 15-year milestone has special significance for Remi Briand, Vice President of Research and Development (R&D), who led development of Tnemec's fluoropolymer coating formulations in Kansas City, Missouri.
"When we introduced our fluoropolymer coatings, we estimated their longevity at more than 15 years based on extensive performance testing and they have performed as we expected," Briand explained. "We now have actual fluoropolymer coating projects in the field that look great after 15 years."
The unprecedented performance of Tnemec fluoropolymer coatings has been observed by trained coating specialists under a wide range of exposure conditions, including high temperatures, humidity, freeze-thaw cycles, and ultraviolet (UV) light. Their observations are consistent with extreme performance testing conducted by Briand and his team of formulators during the product's developmental phase.
One of the first HydroFlon projects was the 500,000-gallon municipal water storage tank in Granbury, Texas, Briand reported. "After more than 15 years of exposure to sunlight, hot temperatures, and weathering, the project still looks great," he observed.
Among the first Fluoronar projects was the Excalibur Hotel and Casino in Las Vegas, Nevada, where castle turrets are subjected to year-round sunlight and hot temperatures. The hotel was recoating the turrets at the main entrance with a polyurethane coating every two to four years to maintain their color prior to applying Fluoronar, which has retained its aesthetics with minimal change and avoided any needed repaints.
"Polyurethane coatings fail to come close to the performance of fluoropolymer coatings technology when it comes to the test of time," Briand said. "The life expectancy of fluoropolymer coatings is two to three times that of a traditional polyurethane topcoat." 
According to Briand, the fluoroethylene vinyl ether (FEVE) resins in HydroFlon and Fluoronar are combined with solvents, pigments, and additives to produce a coating with desirable appearance, physical, and application properties. These components must be carefully selected and evaluated to achieve these desired benefits without harming other coating characteristics, such as the exterior durability of the coating.
Unlike fluoropolymer resins that require heat curing, FEVE resins are ambient air-cured, allowing them to be both shop- and field-applied. Other advantages include graffiti resistance, the availability of coatings in virtually any color, and user friendly application with brush, roller, or spray equipment.
Briand emphasized the important role of pigments used for color and appearance in HydroFlon and Fluoronar coatings. He noted that the color stability of fluoropolymer coatings is dependent on the pigment's resistance to UV light and environmental humidity.
"Tnemec fluoropolymer coatings are different from competitive products because of their formulation that uses high performance pigments and other ingredients that improve long-term durability," Briand emphasized. "And ongoing research continues to find even better pigments and additives that keep improving our formulations. We are always testing."
These coatings were Tnemec's most extensively tested coating formulations at the time of their introduction, Briand recalled. Aesthetic performance based on color and gloss retention was collected from weathering tests conducted in South Florida and Central Arizona, as well as from accelerated testing performed by the R&D team in Kansas City.
"We tested several hundred formulations in arriving at the optimal blend of ingredients," Briand acknowledged.
In Equatorial Mount with Mirrors for Acceleration with Water (EMMAQUA) testing, which is the most widely used weathering test method used in the world, color and gloss change was evaluated on coated panels exposed to UV energy measured in megajoules per meter squared (MJ/m2). After 3,500 MJ/m2, Tnemec fluoropolymer technology showed no blistering, cracking or chalking, slightly less color change, and much better gloss retention than a standard acrylic polyurethane exposed to 2,000 MJ/m2.
Another accelerated test for determining color and gloss retention of a coating, ASTM D6695 Standard Practice for Xenon-Arc Exposures of Paint and Related Coatings, measured the negative effects of light, moisture, and heat on coated panels. Tnemec fluoropolymer technology showed far less color shift and greater color retention after 8,000 hours of exposure to fluorescent UV and condensation devices than a standard acrylic polyurethane measured after only 3,000 hours.
Fluoropolymer formulations were also tested for aesthetic performance and corrosion in accordance with ASTM standards for operating salt spray (Fog) apparatus, enclosed carbon arc lighting, and several others. Coatings were also subjected to a myriad of tests for abrasion, adhesion, cleanability, flexibility and elongation, graffiti resistance, hardness, and impact.
Soon after the commercialization of HydroFlon and Fluoronar in 2000, formulators developed a low-volatile organic compound (VOC) formulation that offers the same performance of standard fluoropolymer coatings. These low-VOC formulations can assist architectural projects in achieving Leadership in Energy and Environmental Design (LEED®) requirements for VOC content under Indoor Environmental Quality (IEQ) Credit 4.2 Paints and Coatings.
"The low-VOC versions were introduced two years after the original formulation," Briand recalled. "These formulations have been very successful in California and other jurisdictions where environmental regulations limit VOC content to 100 grams per liter."
Briand and his R&D staff are proud of the aesthetic, creative, and innovative uses of Tnemec fluoropolymer coatings on high-profile water storage tanks and architectural projects across the nation. "Over the years, HydroFlon and Fluoronar have been part of some remarkable landmark projects," he added.
Reach Out to Tnemec
Get the Information You Need
Contact us now and request the exact information you're looking for. We look forward to getting you an answer ASAP.
Industries
Coatings for Your Industry
Tnemec provides protective coatings in various industries around the world, from wastewater to architecture.
Contact Your Rep
Looking for Some Local Coatings Guidance?
Reach out to one of our knowledgable and reliable representatives near you.