Sculptor Finds Inspiration in 'River That Flows Both Ways'
New York City Sculpture Takes Aim at Capturing an Unorthodox River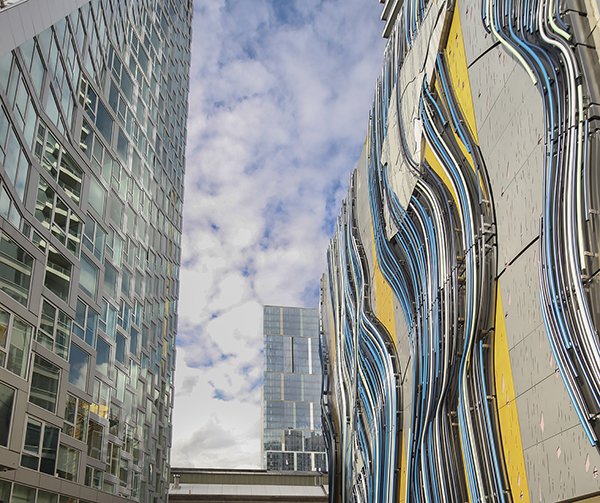 A superblock development in New York City might seem an unlikely source of inspiration for a piece of artwork representing open spaces and nature. But that's exactly where visual artist Stephen Glassman developed the concept for his highly acclaimed sculpture entitled "Flows Two Ways."
Commissioned as part of the 57 West Superblock in Manhattan, the eight-story sculpture derived its name from New York City's Hudson River, which early Native Americans called "the river that flows both ways."
Consisting of curving pipes and 35 interlocking aluminum panels suggestive of a riverscape, the sculpture is "a meditation on the Hudson River," Glassman told Cultural Weekly, a digital magazine based in Los Angeles where Stephen Glassman Studio is located.
In his interview, Glassman recalled the relationship between Flows Two Ways and the VIA 57 West residential high-rise with its unobstructed views of the Hudson River waterfront and park. 
"VIA, a skyscraper, began as a singular vertical statement, but in the end, it became a symbol of open space, neighborhood, horizon," Glassman explained. "You know the light goes through it, the land goes through it, the river is omnipresent. And even though it's very tall … that's not the way you think of it. Certainly, it's an iconic part of the skyline, but it's very much about open space and I responded to that."
As the first major commission in the U.S. for the Copenhagen-based Bjarke Ingels Group (BIG), the pyramidal shaped VIA 57 West represented "a radical departure from the apartment block typology," according to Architectural Record.
"Scooped out of its midsection is a generously proportioned and beautifully landscaped courtyard," the Record observed. "With sunset views of the Hudson, the courtyard offers communal grills for outdoor barbeques or purpose-built tables for a game of chess."
Standing at the entrance to VIA 57 West, the Flows Two Ways sculpture represents "one of the most innovative new public art wall projects in New York," The Architect's Newspaper acknowledged.
"The work is not a painted mural but a raised sculpture that measures sixty-by-sixty feet," Architect's Newspaper shared. "The piece was created through a truly 21st-century process of prefabricated construction. The mural is composed of colored aluminum, stainless steel and rolled metal tubing."
The 16-ton layered sculpture is secured by a stainless-steel mounting system into the wall of the Helena 57 West, a 38-story residential tower that fronts the entrance to the VIA high-rise.
"A sophisticated sliding plate system, which largely floats the 16-ton piece off the building, accommodates thermal expansion and forces generated by wind, rain, snow and ice loads," Architect's Newspaper reported. "It is effectively a panelized façade."
The sculpture's 400 pipe clusters were powder-coated using an assortment of colors related to studies by the Hudson River School of painting.
A search for metallic coatings to be used on the sculpture's aluminum panels led Glassman Studio to Dustin Kaatz of TPC Consultants, Inc., in southern California, who recommended an ultra-durable fluoropolymer coating system from Tnemec.
"They came to us and wanted to know if we had a coating that looked like gold leaf," Kaatz recalled. "Their search resulted in a multi-agency effort by Tnemec representatives in California, Utah and New York."
Assisted by Kaatz and Tnemec coating consultants Michelle Call, Carl Bowers and Phil Gonnella, the project director for Glassman Studio was referred to projects in several cities where Series 1078 Fluoronar Metallic fluoropolymer coatings in various gold colors were used.
"The Glassman Studio team flew out to each location to inspect the projects before deciding on a custom metallic color called City Creek Gold, which was used on Zion Cooperative Mercantile Institution (ZCMI) project in Salt Lake City, Utah. Series 1078 Fluoronar Metallic Platinum and Bright Aluminum colors were also selected for the sculpture.
"In addition to resisting ultraviolet (UV) light exposure, these high-solids metallic finish coatings provided the sheen and reflectance Glassman Studio wanted for this very impressive installation," Kaatz added. "They are also compliant with New York's environmental regulations requiring low-volatile organic compound (VOC) materials."
The metallic fluoropolymer coating system was applied by Atlantic Coast Metalizing Coatings Corp. in Melville, New York. The panels were blasted and primed with an epoxy coating prior to receiving a finish coat of Fluoronar Metallic. An aliphatic acrylic polyurethane clear coat was applied over the finish coat to extend the long-term weathering qualities of the metallic pigmented coatings. 
"The panels were coated in three phases," recalled Richie Goelz, owner of Atlantic Coast Metalizing Coatings. "The pieces coated with City Creek Gold were one phase, the Bright Aluminum colored pieces were another and the Platinum colored panels were the third."
Pieces that required two metallic colors on the same panel as part of the design were masked off by Glassman Studio prior to coating.
"We had to be careful with the panels when we packaged them to make sure they didn't get scratched," Goelz noted. "Everything worked out well. It came out looking good and was completed on time."
VIA 57 West has won numerous architecture and design awards including the 2017 AIA Housing Award, the 2017 ACEC Excellence in Engineering National Award, the 2017 Architect Magazine Residential Architect Design Award and the 2016 International Highrise Award.
Other prestigious honors received by VIA 57 West include 2016 Tall Buildings Award in the Americas category from The Council of Tall Buildings and Urban Habitat and 2016 Society of American Registered Architects Special Award for Excellence in Residential Design Innovation.
The Flows Two Ways project was a winner in the 2017 Durability + Design magazine's Elevation Awards in the Distinguished Residential Exteriors category.
Reach Out to Tnemec
Get the Information You Need
Contact us now and request the exact information you're looking for. We look forward to getting you an answer ASAP.
Industries
Coatings for Your Industry
Tnemec provides protective coatings in various industries around the world, from wastewater to architecture.
Contact Your Rep
Looking for Some Local Coatings Guidance?
Reach out to one of our knowledgable and reliable representatives near you.