Transforming Urban Parks Into Must-See Destinations
Developers Seek to Make Levy Park 'Memorable'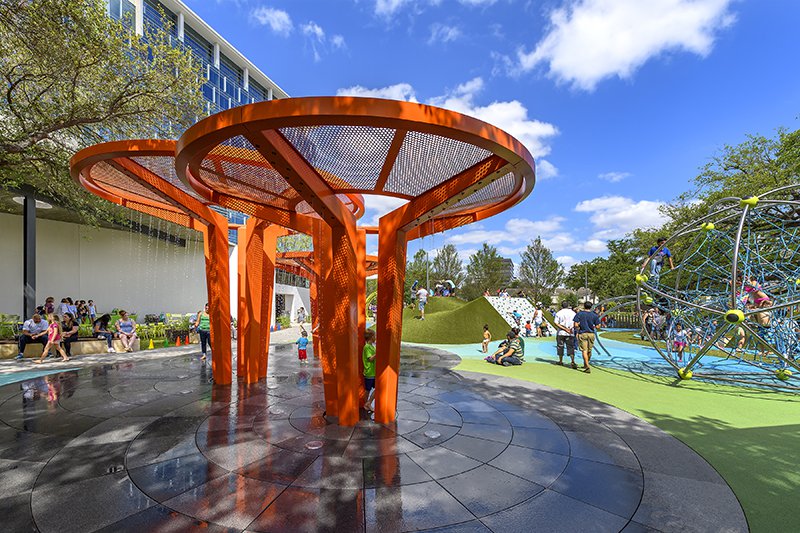 Once the domain of swing sets, slides and teeter-totters, urban parks across the nation are being reimagined with an emphasis on transformative landscaping, environmental sustainability and innovative amenities designed to revitalize communities and stimulate economic growth.
"Landscape architecture is fast becoming a centerpiece, not just a facet, of urban design," according to Curbed, a consumer blog dedicated to architecture, domestic lifestyle and urban interests. "More than just escapes to help residents reconnect with nature, parks and public spaces are now used as tools for engagement and environmentalism and means to promote resilience, knit together neighborhoods, and help revitalize cities."
An example of this trend is Levy Park in Houston, Texas, a 5.9-acre creative public park that reopened in early 2017 following a $15 million renovation. Voted one of the best urban parks in America by Cheapism, a lifestyle blog based in New York, the multifunctional park was designed by Houston's Office of James Burnett (OJB).
"The park's design highlights cutting-edge sustainability practices while offering visitors various opportunities to reconnect with nature and replenish the spirit," explained OJB Principal Chip Trageser on the company's website. "The park's modern, eco-conscious design, comprehensive and accessible programming, and unique appointments make Levy Park a must-see destination for locals and visitors."
Located in a residential-commercial area on the west side of Houston, OJB wanted to ensure that Levy Park was "memorable" when viewed from nearby office towers and other mid-rise buildings.
"The project will work to attract and retain residents and businesses in the surrounding district and contribute to a renaissance of parks, bayous and public spaces through the metropolitan area," the OJB website envisioned.
The renovated park replaced a ball diamond used for Pony League games and a swimming pool, according to the Houston Chronicle.
"The land for Levy Park was deeded to the city in 1941 by Leon Levy, who was from a pioneering family of Houston merchants," the Chronicle recalled. "The Pony League activity eventually gave way to softball games, but by the mid-1990s, vagrants were living under the bleachers."
The redesigned park features a multi-purpose performance pavilion, a three-tiered water feature, gaming and reading areas, an activity lawn, a creative children's play area and an enclosed section where dog owners can exercise their pets. Environmental features include raised garden beds, a 7,500-square-foot rain garden that captures storm water to mitigate runoff from heavy rainfall and several mature oak trees that were incorporated into the park's design.
"Taking full advantage of the trees, the children's area includes an accessible ramp serving no other purpose than to take visitors literally into the tree canopy, 10 feet above the ground," noted a website posting by Cite: The Architecture + Design Review of Houston. "Above all, the placement may have found the perfect balance of shade and open sky, making Levy Park now one of Houston's best outdoor public spaces."
The children's play area also includes a 14-foot buckyball sphere and a wall for climbing, a seven-foot slide, lighted tunnels, padded pathways and an interactive "step chime" that produces sound when stepped on.
The park's colorful metalwork received a protective fluoropolymer coating system like the one used on the decorative metal archway and elevated "skywalk" at the Rory Meyers Children's Adventure Garden in Dallas, Texas.
"The project required a coating system that would withstand exposure to ultraviolet (UV) light and heavy rainstorms that can cause flooding," explained Billy Konczak of The Barry Group, LLC. "Longevity of the coating system was critical because you don't want to close the park in the middle of town and have to repaint everything."
The coating system was shop-applied to fabricated metal prepared in accordance to SSPC-SP 6/NACE No. 3 Commercial Blast Cleaning. A single-component zinc-rich aromatic polyurethane primer was spray-applied to the metal surfaces, followed by a polyamide epoxy intermediate coat. A finish coat of Series 1071 Fluoronar, a fluoropolymer coating in neon yellow, bright orange and green completed the coating system.
"The Fluoronar coating system is super durable and UV resistant, so the colors will not fade for many years," Konczak emphasized. "And Fluoronar is easy to touch-up."
Evidence of the coating system's durability was apparent following Hurricane Harvey, which was described as the most devastating flood event in Houston's history.
"After Hurricane Harvey, Levy Park quickly drained and there was no water damage to the playground structures," Konczak reported. "The project turned out very well and everyone thinks it looks beautiful."
The long-lasting performance of fluoropolymer technology is also evident in New York City's Central Park and in Waikiki, Hawaii, where for years Fluoronar coating systems have protected decorative lampposts against the damaging conditions found in those contrasting environments.
Renovation of the park was funded through a public-private partnership with management and maintenance provided by the Levy Park Conservancy, a private not-for-profit corporation.
Contact Your Rep
Looking for Some Local Coatings Guidance?
Reach out to one of our knowledgable and reliable representatives near you.
Industries
Coatings for Your Industry
Tnemec provides protective coatings in various industries around the world, from wastewater to architecture.
Reach Out to Tnemec
Get the Information You Need
Contact us now and request the exact information you're looking for. We look forward to getting you an answer ASAP.