Hospital Artwork Nurtures a Healing Environment
Medical Center Art Becoming Part of the Model of Care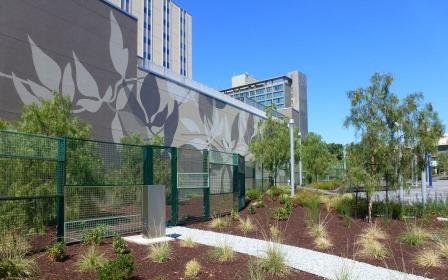 "Can an attractive drawing or photography reduce pain or anxiety? Do patients with art in their environment heal faster?"
When NBC News posed these questions in a special report on "The Healing Power of Art," several national authorities answered in the affirmative.
"If an art installation gets a patient out of his room or paintings take a person's mind off their pain and lower their stress levels, the art isn't just decorative anymore - it's part of the entire model of care," Dr. Lisa Harris, chief executive of Indiana-based Eskenazi Health, told NBC. Harris oversees the hospital's $1.5 million donors-funded art program.
At the UnityPoint Health - Trinity addition in Rock Island, Illinois, an art selection committee chose approximately 200 original paintings and photographs of nature themes, according to the May issue of the Argus newspaper. Among the artwork on display are a series of blue-sky photos printed eight feet tall on plastic resin panels, as well as close-up photos of glowing fireflies and flowers. Research suggests that nature scenes can have a calming effect on patients.
"Art is playing an increasing role in patient-centered design philosophies in medical facilities," the Argus shared. "In hospitals across the country, artwork has become another means to create a nurturing space for patients and their families, as well as staff."
At Kaiser Permanente's new medical center in Oakland, California, both interior and exterior art combines with daylighting and natural views to create a healing environment for patients, their families, and staff.
"Local history and culture are incorporated into the design with works from local artists, including several from Creative Growth, an Oakland nonprofit that provides studio space for people with disabilities," according to Healthcare Design magazine.
"Bright colors, artwork, and poetry from local school children decorate the pediatrics department," Healthcare Design continued. "Waiting areas feature brightly colored furniture and large windows that bring natural views and daylighting into the interior."
Among the hospital's most visible artworks is a 70-foot by 140-foot exterior wall mural that faces a high-traffic intersection outside the hospital's emergency entrance. With its abstract pattern of leaves on a vine colored various shades of grey, brown, and beige, the mural was painted by California artist Beate Brühl of Beate Brühl Design and Ken Cavanaugh of Jerry Thompson and Sons Painting & Decorating, Inc.
Brühl was commissioned to add color and contrast to a black and white design provided by the hospital's architects. Brühl started the process by creating one 10-foot by 5-foot canvas color "sample" of the mural with a light beige background and a second darker version, which ended up being selected.
"Where the leaves overlapped, they wanted to have the illusion of transparency, which was a little tricky given the choice of colors," Brühl acknowledged. "Since the colors were similar, achieving the desired contrast was a challenge."
Her first day at the jobsite, Brühl was asked how many painters she would use to complete the massive mural, to which she replied, "You're looking at them."
Working from scaffolding installed by Thompson and Sons Painting, Brühl transferred an alphabetical and numeric grid system she devised for her 10-foot by 5-foot sample onto the cast-in-place concrete (CIPC) wall. She recreated the grid pattern using the wall's horizontal expansion joints and vertical snap line marks.
"I crawled across the whole wall laying everything out," Brühl recalled. "Most of the leaves spanned several levels of scaffolding, so I would start an outline for a leaf on one level and continue down to the other levels to finish it. I painted the outlines of the layout with a brush and Ken Cavanaugh filled in the outline with a roller. It took some concentration not to lose track of the design, especially since the colors were so similar."
Rain and cool weather were challenges the painters were forced to work around. "We were still able to finish the mural on time, even with the various setbacks," Brühl added.
Carl Bowers of Amos And Associates assisted with the coating selection. The CIPC exterior was prepared in accordance with SSPC SP 13/NACE No. 6 Surface Preparation of Concrete and given a base coat of Series 156 Enviro-Crete, a flexible, waterborne acrylate coating that protects against driving rain and ultraviolet (UV) light. Approximately 400 gallons of Series 156 were spray-applied by Jerry Thompson and Sons Painting at 4.0 to 6.0 mils dry film thickness (DFT).
The mural was painted using Series 1029 Enduratone, a water-based, low-volatile organic compound (VOC) high-dispersion pure acrylic polymer coating with long-term protection. A total of 245 gallons of Enduratone were applied by brush and roller at 2.0 to 3.0 mils DFT per coat.
Brühl has been commissioned to work on several prestigious artworks and restoration projects throughout California, including the historic Alameda Theatre, San Francisco City Hall, the Archdiocese of Sacramento priest retirement village, and the Old Governor's Mansion in Sacramento, to name a few. She was also one of 25 artists to participate in the "We Know Jack" Public Art Project to benefit the Vacaville Museum. That project involved painting a giant, fiberglass rabbit she named "Ms. Jacky Hase," which was inspired by the animals, flora, and fauna of Solano County. The collection of 25 painted jackrabbits were auctioned off in June.
The 349-bed Kaiser Permanente Oakland Medical Center, which meets California seismic safety construction mandates, opened in July 2014. The new hospital features a 24-hour emergency department, all-private rooms with Wi-Fi and pull-out guest beds or sleeper chairs, and 14 in-patient operating rooms. The facility adjoins a medical office building with 102 offices, a new parking garage, a laboratory and pharmacy.
Reach Out to Tnemec
Get the Information You Need
Contact us now and request the exact information you're looking for. We look forward to getting you an answer ASAP.
Contact Your Rep
Looking for Some Local Coatings Guidance?
Reach out to one of our knowledgable and reliable representatives near you.
Industries
Coatings for Your Industry
Tnemec provides protective coatings in various industries around the world, from wastewater to architecture.