Youth Gardens Sow Seeds of Interest in Nature
Children's Adventure Garden Planting Education in the Minds of Youth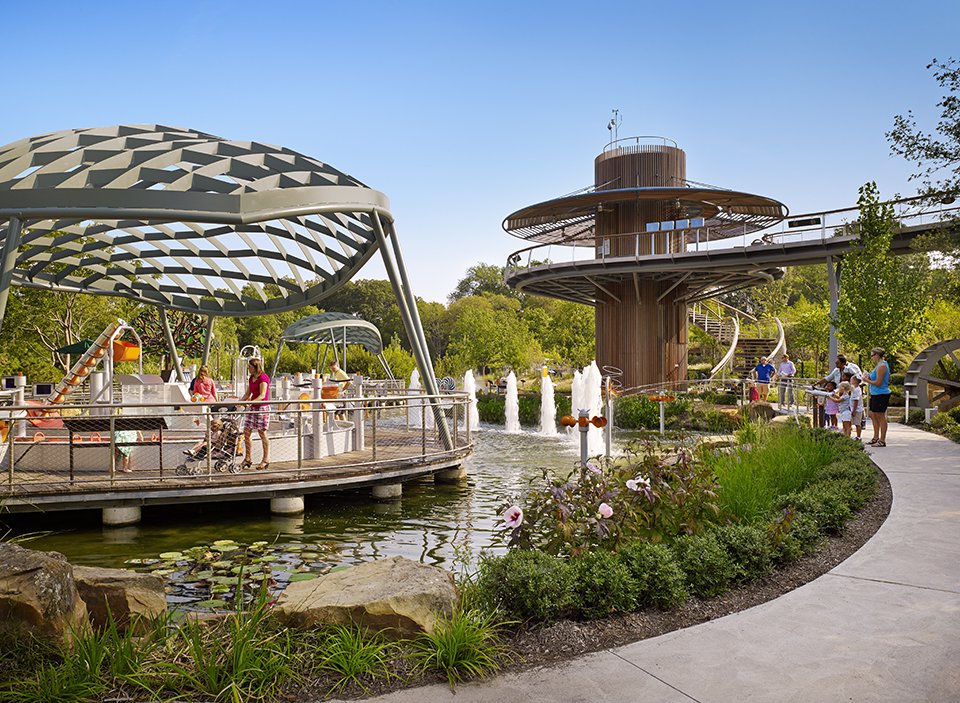 Across the U.S., youth gardens have sprouted up in major cities such as New York, Denver, Chicago and Dallas, with interactive programs and displays that encourage children to play in the dirt. According to an article in USA Today, more than 100 outdoor venues designed to cultivate a new generation of "green thumbs" now offer hands-on gardening and botanical experiences that educate, as well as entertain.
At the new $61 million Rory Meyers Children's Adventure Garden in the Dallas Arboretum, visitors can experience 17 indoor and outdoor galleries including wetland and woodland ecosystems, an energy tower, and earth sciences exploration center with an OmniGlobe.
When the 8-acre garden opened in 2013, an editorial in The Dallas Morning News opined, "The latest entry into the Dallas cultural mélange is stunning for its design, attention to detail and, most important, its commitment to science education."
Citing the project's "high-tech marriage of garden, museum and school—with a kid's touch," the newspaper applauded its experiential approach to learning. "Kids can look through video microscopes at tiny creatures living in a contained wetlands environment, then walk outside and touch and feel that same type of environment," the editorial observed.
In an article for examiner.com, Caroline Turner reported, "Nothing fails to amaze at this garden, interactive exhibits and activities are seemingly endless, cover topics from plant anatomy to the water cycle to renewable energy to caves and geology, and are appropriate for all ages."
Named for the former chairman of the Dallas Arboretum's education and research committee, the Children's Garden is staffed with docents, volunteers and teachers who explain the various concepts on exhibit. Among the costumed characters at the garden are Betty the Bee with her insights on pollination, and Stump the Tree with his knowledge of plants and birds.
The Garden's centerpiece is the 240-foot-long Texas Skywalk that gives visitors a bird's-eye view of the treetop canopy and surrounding acreage. The walkway is supported by Y-shaped steel columns coated by a high-performance Tnemec coating system.
"Steel was selected for the skywalk structural system to maximize span, reduce structural weight and foundation costs, and minimize structure depth of spanning members," explained Beth Greenburg, AIA, in a guest column for Metal Architecture magazine. "The Tnemec system was selected over other options because of ease of long-term maintenance and the ability of the contractor to paint erected steel on-site after a large number of field welding operations."
Non-galvanized ferrous metal was abrasive blast cleaned in accordance with SSPC-SP 6/NACE No. 3 Commercial Blast Cleaning and shop-primed with Series 90-97 Tneme-Zinc, a two-component, zinc-rich urethane primer spray applied at 2.5 to 3.5 mils dry film thickness (DFT).
Field Touch-up consisted of Series 90-97 applied over abraded or chipped surfaces, followed by an intermediate coat of Series 66 Hi-Build Epoxoline, a polyamide epoxy, at 4.0 to 6.0 mils DFT. A finish coat of Series 73 Endura-Shield, an aliphatic acrylic urethane was field-applied at 2.0 to 3.0 mils DFT. All field coatings were brush and roller applied.
Galvanized ferrous metal received a first coat of Series 66 and a finish coat of Endura-Shield. Series 1078 Fluoronar Metallic, a high-solids fluoropolymer coating that provides an ultra-durable metallic finish, was applied to a decorative metal archway.
Dattner Architects located in New York City worked closely with Tnemec coating consultant Phil Gonnella of Righter Group, Inc. on the coating specification for the skywalk. "The architect was looking for a durable system that would work on steel and galvanized metal," Gonnella recalled. "Dattner Architects consider the coating system in a project's embryonic stages and really sweat the details."
The Dallas-based general contractor and painting contractor relied heavily on The Barry Group in Texas and coating consultant Justin Taute, who is now with NexGen Coating Resources in Tennessee.
"The project required considerable coordination among agencies spread across a wide geographic area," Taute emphasized. "The inter-agency cooperation between The Righter Group in the northeast, and The Barry Group in the southwest, was very instrumental in getting this project completed."
Reach Out to Tnemec
Get the Information You Need
Contact us now and request the exact information you're looking for. We look forward to getting you an answer ASAP.
Industries
Coatings for Your Industry
Tnemec provides protective coatings in various industries around the world, from wastewater to architecture.
Contact Your Rep
Looking for Some Local Coatings Guidance?
Reach out to one of our knowledgable and reliable representatives near you.