Passenger Experience Soars at Iconic Airport Terminals
San Diego and Los Angeles Airports Reach for the Sky with Design Features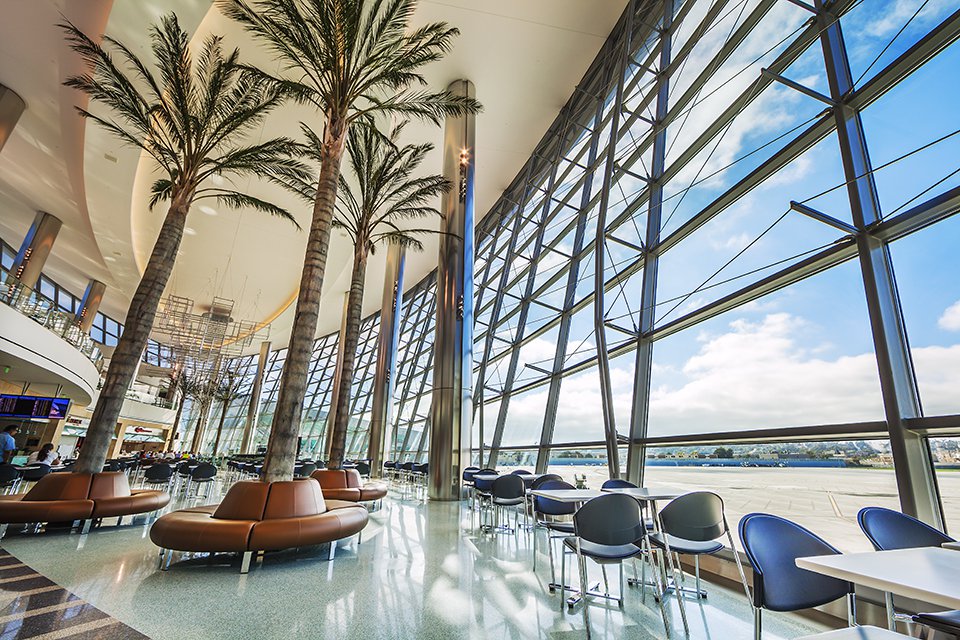 Since their completion in 2013, the San Diego International Airport Terminal 2 expansion and the Tom Bradley International Terminal in Los Angeles have been winning awards and public accolades for their innovative designs, use of technology, and achievements in sustainability.
Designated "The Green Build" by San Diego International Airport, the Terminal 2 expansion represented the largest construction project in the region and the first project of its kind to achieve a Leadership in Energy and Environmental Design (LEED) Platinum certification. In 2014, the $907-million expansion received the Environmental Achievement Award from the Airports Council International - North America, and was named Best Airports/Transit Project by Engineering News-Record (ENR) magazine, which is published by McGraw-Hill Construction. Numerous local and regional awards also recognized the project for both aesthetics and sustainability.
According to ENR, "Two contracting teams, via separate contracts, built a 460,000-square-foot terminal expansion with 10 wide-body airline gates, a concessions space with floor-to-ceiling windows facing the airfield, and a security checkpoint that doubles the capacity of the old facility."
Infrastructure enhancements cited by ENR included a pair of curbside check-in stations, an elevated vehicle departure roadway covered by 50-foot-tall canopies, and 1.3 million square feet of apron paving constructed on a brownfield site.
In its Annual Sustainability Report, the San Diego International Airport noted that 90 percent of the construction material waste from The Green Build was recycled and reused on site. "Design and construction incorporate green design principles, such as use of alternative energy sources, recycled materials, and renewable resources, leading to decreased water usage and reduced energy consumption," the report explained.
The centerpiece of The Green Build is the spacious Sunset Cove with its concourse dining and shopping options enclosed by a 51-foot-high by 317-foot-wide curtain wall facing the airfield. Other concourse amenities include an entertainment stage that opens onto a sunlit courtyard, passenger seating with built-in electrical charging outlets, and more than $6 million in public art to enhance the visual experience of the 40,000 passengers who use the terminal every day.
When it comes to architectural design and sustainability, the $1.5 billion Tom Bradley International Terminal (TBIT) has claim to its own bragging rights as part of the largest public works project in Los Angeles history.
Designed by Fentress Architects, the LEED silver-certified project diverted 75 percent of construction waste from landfills, while minimizing adverse environmental impacts through use of non-toxic materials, water-efficient fixtures, and energy-saving mechanical systems.
Upon its completion, TBIT earned the American Institute of Architects (AIA) Los Angeles Chapter 2013 Presidential Honoree Building Team of the Year Award, which recognizes excellence in work by local architects. Numerous local and regional awards were also received including the Gold Award presented by the Los Angeles Business Journal. In USA Today, Curtis Fentress, FAIA, RIBA, Principal-in-Charge of Design for TBIT, declared the project "the best international terminal in the U.S., with wide generous spaces that are … filled with daylight, lots of high-end retail, and signage that entertains as well as informs."
Citing the amount of time that people spend in today's airport terminals, Fentress told USA Today, "With amenities for fine or fast dining, shopping, and a variety of entertaining things, the new TBIT is an exciting and dynamic space where one can sit and enjoy."
The USA Today article lauded the terminal's three-story, 150,000-square-foot "Great Hall" with its restaurants, airline club lounges, and duty-free shopping, as well the high-tech Integrated Environmental Media Systems (IEMS). "Hard to miss will be the 80-foot-tall Welcome Wall offering content that includes scenes of greeting and a Bon Voyage Wall featuring filmed clips of people jumping in super-slow motion," the article observed. "There's also a 72-foot-tall digital Time Tower, built around the elevator in the Great Hall."
Exposed structural steel members in both the TBIT and The Green Build used low volatile organic compound (VOC) fluoropolymer coating systems that offer extended gloss and color retention and protection against ultraviolet (UV) light. The coating systems consisted of zinc-rich primers, a low-VOC epoxy intermediate coat, and high-solids, fluoropolymer finish coatings.
"For these types of projects, we use high-performance coatings as a matter of course," noted David Woo, senior technical and construction specifier for Fentress Architects. "The terminal building is used constantly, so we required coating materials and finishes that would stand up to heavy wear and exposure."
All of the steel coatings used for the TBIT complied with air district rules covering VOC content in architectural coatings, according to coating consultant Tony Hobbs of TPC Consultants, Inc. Series 94-H2O Hydro-Zinc, a single-component zinc-rich primer, was shop-applied by the steel fabricator prior to being shipped to the TBIT construction site.
"We put the zinc primer on the steel for additional corrosion protection because of the terminal's proximity to the ocean," Hobbs explained. "The structural steel was going to remain exposed for several months prior to being enclosed, so it was critical to prime the steel with a coating that could withstand the elements."
TBIT was one of the first projects to specify Series 1078V Fluoronar Metallic, a low-VOC fluoropolymer coating that offers an ultra-durable metallic finish.
Series 1071V Fluoronar, a low-VOC semi-gloss fluoropolymer coating, was used on structural steel surfaces inside The Green Build, as well as on exterior canopies, fire sprinkler lines, and two pedestrian sky bridges. Steel for that project was shop-primed with Series 90-97 Tneme-Zinc, a two-component, zinc-rich aromatic urethane coating, and touched up in the field with Series 94-H2O.
Series 750 UVX, a low-VOC polyurethane finish coat that offers superior color and gloss retention for long-term aesthetics, was used for a large window frame on the airside of The Green Build. Interior metal doors and frames, as well as galvanized metal surfaces such as stairs, were primed with Series 115 Uni-Bond DF, a waterborne, rust-inhibitive coating, followed by a finish coat of Series 1029 Enduratone, a water-based, low-VOC acrylic polymer coating.
"Aesthetics was very important for both The Green Build and Tom Bradley International Terminal," added Denis Amyot of TPC Consultants, Inc. "Having LEED-compliant, low-VOC coatings that offer extended color and gloss retention, and protection against UV degradation, are big reasons why Tnemec coatings are specified for iconic projects like these here in California."
Reach Out to Tnemec
Get the Information You Need
Contact us now and request the exact information you're looking for. We look forward to getting you an answer ASAP.
Industries
Coatings for Your Industry
Tnemec provides protective coatings in various industries around the world, from wastewater to architecture.
Contact Your Rep
Looking for Some Local Coatings Guidance?
Reach out to one of our knowledgable and reliable representatives near you.