Wardman Tower Looms Large as Washington, D.C., Landmark
Renowned Tower Continues Greatness in Washington, D.C.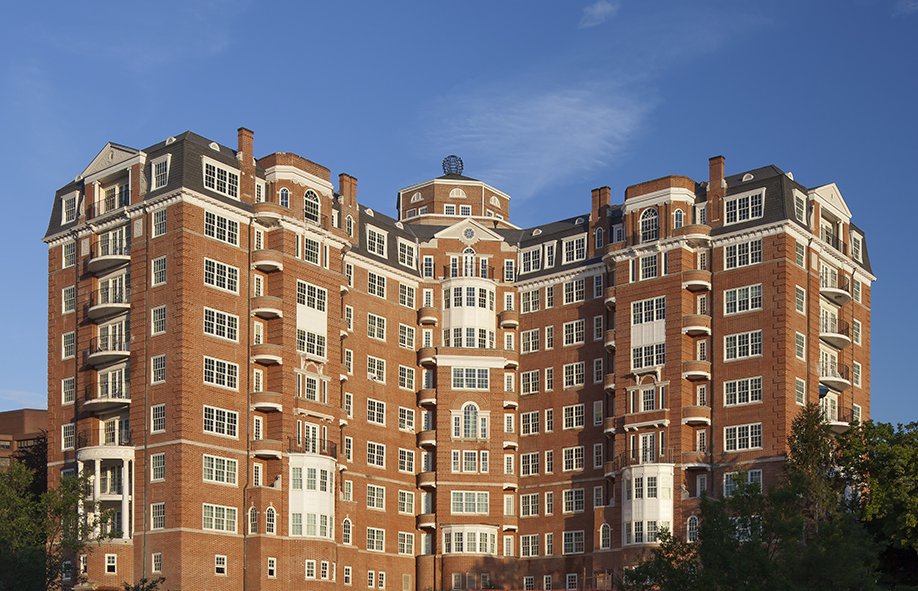 From the exterior grandeur of its traditional English Colonial Revival-style architecture, to the contemporary amenities and services of its luxurious residential interiors, the iconic Wardman Tower has remained a cultural centerpiece in Washington, D.C., going on 90 years.
Built in 1928 and named for Harry Wardman, who was credited for much of the early 20th century real estate development in the nation's capital, the red-brick luxury hotel was home to a Who's Who of Washingtonian society.
"Few, if any, Washington buildings can claim to have housed more nationally and internationally prominent figures," according to the National Register of Historic Places (NRHP), which assigned Wardman Tower landmark status in 1984. The building is also designated a historic landmark by the District of Columbia's Inventory of Historic Sites.
In its early years as a residential hotel, Wardman Tower was home to Presidents Herbert Hoover, Dwight D. Eisenhower, Richard Nixon and Lyndon B. Johnson, Vice Presidents Henry Wallace, Hubert Humphrey and Spiro Agnew, Chief Justice Earl Warren and Senator Barry Goldwater.
From its hilltop location, Wardman Tower occupies a 16-acre site that afforded "a park-like setting for the enjoyment of hotel residents," the NRHP reported. "The structure is composed of four, eight-story wings radiating spoke-like from a central octagonal tower. The arrangement provides all rooms with exterior views and gives the building its distinctive cruciform shape."
Large suite accommodations cited by the NRHP included living room, formal dining room, kitchen with butler's pantry, and anywhere from three to ten bedrooms. Common amenities included recreation facilities, including tennis, swimming and ice skating; room service and daily maid service; and a post office, florist, dressmaker, beauty salon and other specialty shops within the building.
The commitment to luxury that characterized Wardman Tower in its heyday was a guiding influence during a major renovation of the building into 32 residences priced from $3 million to more than $9 million. At those prices, the Washington Post characterized the residences as "among the most expensive condos in the city."
A tour of a model unit by a Post reporter revealed interior features such as six-inch wide oak panel flooring, crown moldings, picture windows pre-wired for automatic shades, stainless steel appliances, quartz kitchen counters and marble backsplashes.
"The master suite includes a spacious bedroom, an oversized walk-in closet and dressing area, and a luxurious bathroom," the Post reported. "The bedroom, closet and bathroom all have large picture windows framing city views. The bathroom has heated mosaic tile flooring, a marble double-sink vanity, a soaking tub set under a large window, a glass-enclosed shower with marble flooring, a marble seat and a window."
Among the features and amenities listed in a news release by project developer, JBG Companies, are private balconies, both private and common rooftop terraces with "360 degrees of monument viewing," and a 2,000-square-foot fitness center with yoga studio. Residents also have access to concierge services, a library and lounge that open onto a garden, private storage units, and dedicated parking spaces.
Special care was taken during the renovation of Wardman Tower to preserve the exterior of the landmark building. In addition to restoring the original bricks and masonry, decorative metal cornices, cast iron railings, and other architectural details were recoated with a long-lasting fluoropolymer coating system.
"It was a very involved project," according to Travis Gold of Mid-Atlantic Coatings, Inc. "As a historic landmark, it was necessary to preserve as much of the building's original materials as possible. Every time we were at the jobsite, the historical significance of the building was discussed. Every decision and change had to be reviewed by the appropriate channels."
The Wardman Tower renovation required repeated visits to the jobsite by Gold and Cory Brown, vice president of Tnemec's technical services unit.
Among the challenges faced by Gold and the restoration contractor was the condition of the cornice, which was made of thin-gauge sheet metal and encrusted with several coats of old paint. Early efforts at removing existing paint by abrasive blast cleaning resulted in damage to the substrate, so the original coating specification was altered to accommodate light chemical stripping and hand tool cleaning.
"The developers were looking for the long service life and color and gloss retention of a fluoropolymer finish coating, so the system was designed to deliver that topcoat," Gold explained. "Compatibility with caulking and other materials was also a requirement for the coatings."
A zinc-rich urethane primer and epoxy tie-coat in the original specification was replaced with Series 118 Uni-Bond Mastic, a single component, mastic waterborne acrylic coating for use over minimally prepared painted metal. A mockup demonstrated that Series 118 could be topcoated with a long-lasting polyurethane intermediate coating and fluoropolymer finish coat.
"We prepared the mockup using the coating system on one of the worst areas of the cornice and it performed like a charm," Gold confirmed.
The Series 118 was spray-applied, followed by a brush-applied intermediate coat of Series 73 Endura-Shield, an aliphatic acrylic polyurethane coating, and a finish coat of Series 1071 Fluoronar, a fluoropolymer coating that offers outstanding color and gloss retention.
"The building's railings were removed, coated in the shop with a similar Tnemec system, then reattached," according to Gold. "They also pulled every window out of the building, repointed all of the brickwork, and installed new lintels, so some of the coating system was covered."
The grandeur of the renovated exterior "with its gorgeous bones and brick façade facing landscaped gardens" is highlighted on the Wardman Tower website.
In emphasizing the project's historical significance to the nation's capital, the website added, "Wardman Tower's exterior stands as a reminder of what architecture in this powerful city has been, and as a beacon of what it can be." 
Reach Out to Tnemec
Get the Information You Need
Contact us now and request the exact information you're looking for. We look forward to getting you an answer ASAP.
Industries
Coatings for Your Industry
Tnemec provides protective coatings in various industries around the world, from wastewater to architecture.
Contact Your Rep
Looking for Some Local Coatings Guidance?
Reach out to one of our knowledgable and reliable representatives near you.