High-performance Coatings and Ocean Life Coexist at South Carolina Aquarium
Aquarium in Charleston, S.C., gets upgraded with a splash of Tnemec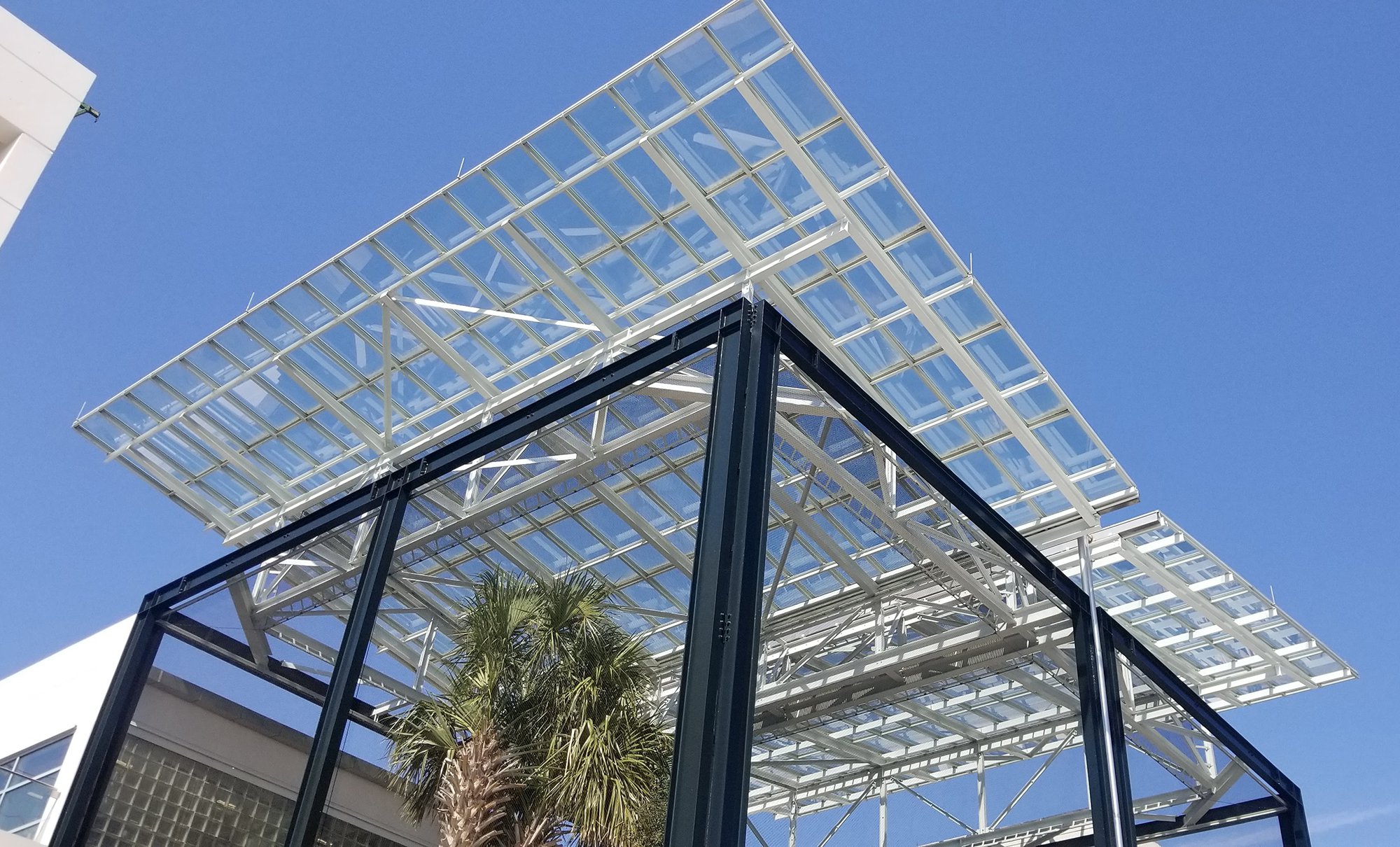 In 2000, the South Carolina Aquarium opened its doors on the edge of the historic Charleston Harbor. The 93,000-square-foot building features nine main galleries designed to educate visitors about the diversity of wildlife in the Southeastern Appalachian watershed. Over 10,000 animals live at the aquarium, a diverse collection ranging from bald eagles to sea turtles.
One of the most impactful exhibits at the aquarium is the Sea Turtle Care Center. A team of volunteers and full-time staff work together to help sea turtles go through a rehabilitation process until they're able to be released. The Zucker Family Sea Turtle Recovery, part of the care center, functions as both a hospital for turtles as well as an exhibit. Guests are able to watch the aquarium team as they diagnose turtles and provide whatever care may be needed to nurse individual turtles back to health. Since the program began, over 250 sea turtles have been aided, with an average stay of seven to eight months.
Another famous exhibit at the aquarium is a 385,000-gallon, two-story tall Great Ocean Tank. At 42 feet deep, the giant saltwater tank is America's deepest, and home to more than 700 marine animals. The exhibit also features a 'Touch Tank' where visitors can pet sea animals like stingrays. Although the Touch Tank is closed for the safety of guests and animals during COVID-19, the aquarium remains open under limited capacity.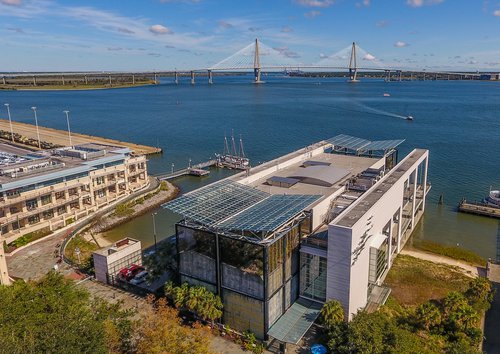 Multiple Challenges
In 2017, the aquarium received funding for renovations and a full exterior repaint. The once-pristine white concrete exterior walls had become grimy and taken on a mildewed appearance along the edges, and the steel surfaces had become dull due to the environmental conditions. The old coatings had passed the point where a simple cleaning would solve the aesthetic problems.
A number of issues complicated the exterior repainting project. For one, the aquarium sits on the ocean and the Ashley River, meaning any coatings would need to stand up to the marine environment and any tropical or hurricane-type weather that blows through.
Along with its oceanside location, the aquarium is within the historic district of Charleston, a beautiful area that comes with a number of different parties whose approval is needed before any rehabilitation work could begin. Charleston places a heavy emphasis on preserving the historic character of the city and legally mandates that there be a historic preservation component in the planning and execution as part of the planning process for construction projects in the area.
Finally, the coatings would be covering areas where animals normally live. In some cases, animals would need to be displaced for coatings to be applied. Dealing with marine creatures means that a simple move to a new area isn't really so simple: constraints such as the type and depth of water necessary for the survival of each animal, as well as the need to keep certain animals apart from each other.
With all of these considerations in mind, it was imperative that any coatings be both safe for the environment and the animals as well as last as long as possible so this process wouldn't need to be repeated again any time soon.
Creating Lasting Beauty
Tnemec products had already been used with great success inside the aquarium, especially when used in 2017 to coat the sea turtle containment structures. Tnemec was able to recommend the right system to handle the conditions of caring for sick sea turtles.
So, when the aquarium was looking for the right coatings for this new job, project managers reached out to Nick Vause, local Tnemec representative, knowing that he'd provide the right combination of expertise and products for the aquarium's needs. One coatings system was needed for the exterior steel framing for the building, and another system for the concrete walls and surrounding areas.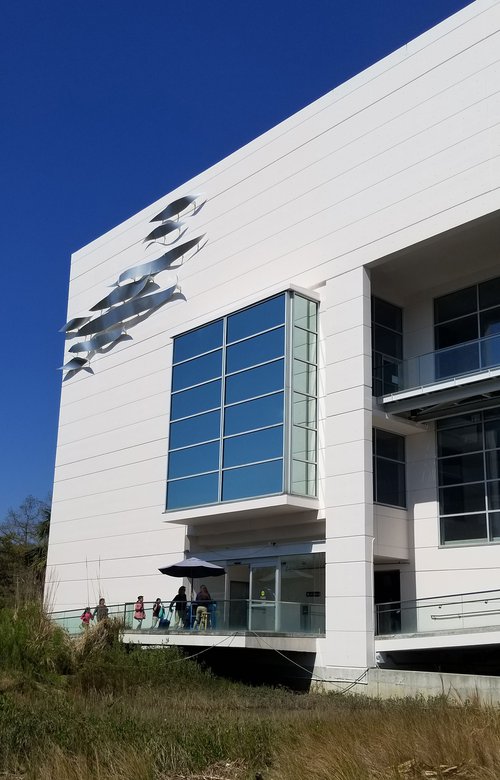 For the steel surfaces, Vause recommended a system featuring Fluoronar. Tnemec developed Fluoronar with protection in mind. It's a premium fluoropolymer topcoat which is designed to give long-term protection while retaining its aesthetic qualities for decades.
Steel surfaces were spot primed with Series 135 Chembuild, a modified polyamidoamine epoxy. This high-build coating adheres tightly to old coatings and marginally prepared rusty steel surfaces and provides excellent resistance to abrasion, chemicals and corrosion. After spot priming, a full coat of Series 135 was applied at a high build of 4-6 mils DFT.
Steel surfaces were then finished with a topcoat of Series 1070 Fluoronar, which was roller- and brush-applied at 2-3 mils DFT. A high-solids fluoropolymer coating, Series 1070 has excellent color and gloss retention even in extreme environments.
The exterior precast concrete needed a much different system. First, concrete was patched up and sealed with Series 151-1051 Elasto-Grip FC. This waterborne modified polyamine epoxy is a flexible, penetrating, and low-odor primer designed for porous substrates such as cement.
Once the concrete was sealed, primed, and ready, the contractors applied two full coats of Series 156 Enviro-Crete, a modified waterborne acrylate. Series 156, true to its name, is able to stand up to big shifts in the outdoors environment; its elastomeric properties provide protection against the seasonal freezing-thawing cycles, sunlight, and the intense rains of South Carolina's summers and occasional tropical storms. Series 156 can also help fill and bridge minor hairline cracks. Combined with the bonding properties of Series 151-1051, Series 156 will provide a lasting and beautiful finish for the concrete exterior of the aquarium for decades to come.
Phillips Industrial, a local coatings contractor, completed the coatings applications on time while dealing with a variety of challenges from the environment. The owners, project crew and architects all agreed that the final results are excellent.
Exterior renovations are now complete, but are only being seen by limited audiences because of COVID-19 pandemic restrictions. Ticket sales and aquarium admissions are being carefully limited to ensure the safety of visitors, volunteers, staff and animals.



E-News
Coating News Direct to Your Inbox
Stay informed about industry news and innovative coating products via email.
Reach Out to Tnemec
Get the Information You Need
Contact us now and request the exact information you're looking for. We look forward to getting you an answer ASAP.
How to Purchase
Ready to Order Tnemec?
We're ready to help. Click below to learn more about our purchasing process.