Navy Pier Plans for the Future with Sustainable Upgrades
Iconic summer spot on Lake Michigan gets improvements with help from Tnemec coating systems.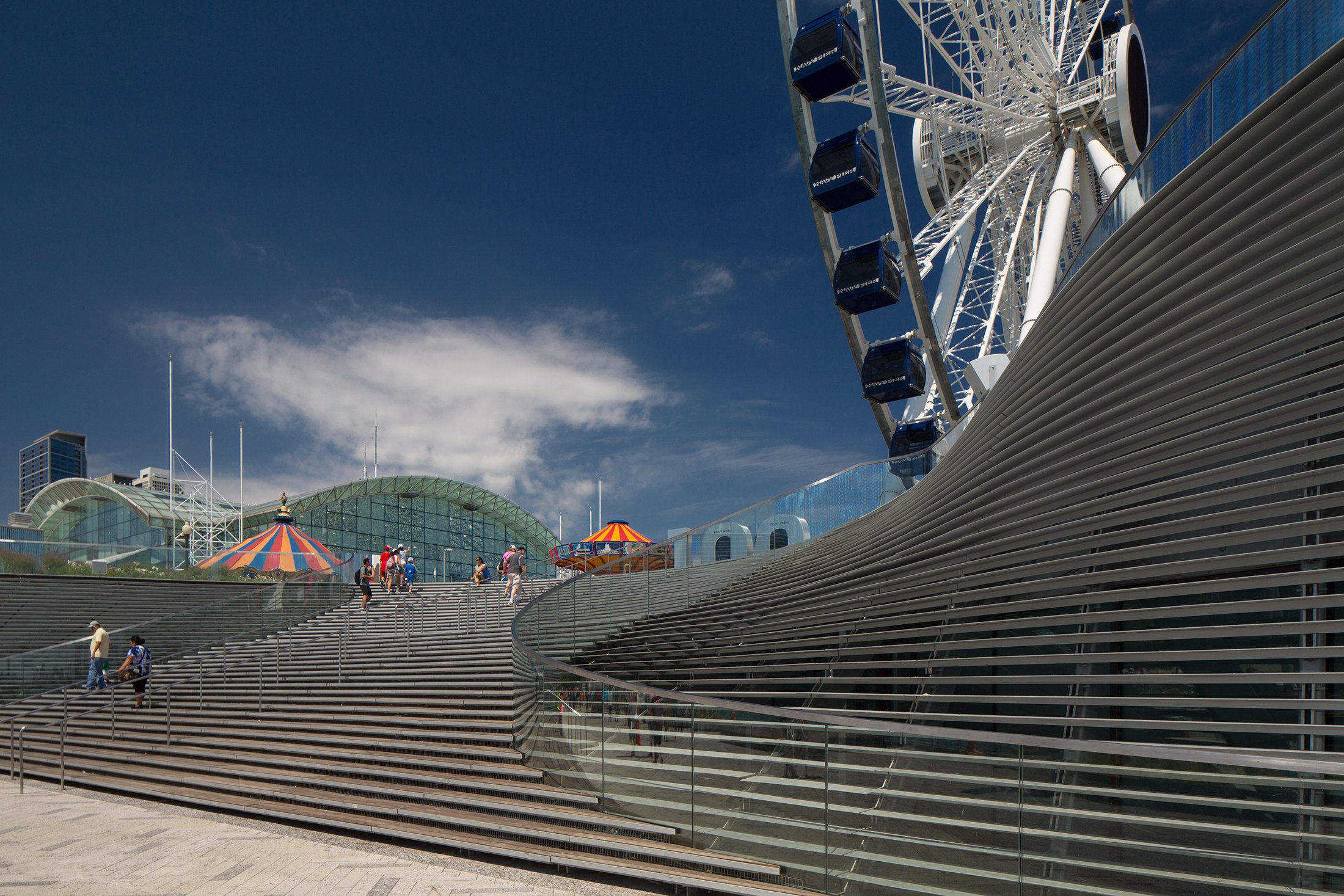 Chicago's iconic Navy Pier has been one of the top draws in the Midwest for years, bringing in close to 2 million visitors annually. It has gone through several rounds of renovation efforts over the past decade. The ultimate goal of these renovations is to ensure the tourist destination continues to be an active and bustling hub for local community functions as well as attractions for visitors to the city. Important improvements in sustainability have also occurred.
The redevelopment plan for Navy Pier was adopted in 2013. Called The Centennial Vision, the two-phase plan has focused on waterfront upgrades, new restaurants, expanded theater and green spaces, followed by a new Ferris wheel and hotel.
DESIGNING AN URBAN PARK
Early work in the renovation project involved reworking the streetscape between the attractions and the lakefront. Tour boat docks and moorings were moved so that the central stairway focused on the Ferris wheel. A wider pedestrian area was created in order to accommodate potentially larger crowds.
Tnemec coatings were a huge component of the overall urban park infrastructure. One coating system, consisting of four parts, was developed for broad use throughout much of Navy Pier. Applications of this system include to the Wave Wall Louvres, the Ferris wheel canopy, and on all of the pedestrian boat ramps, handrails, benches, planters and bollards. The system needed to be able to handle lake water, heavy pedestrian use, and a climate known for extremes of heat, cold, thunderstorms and snow.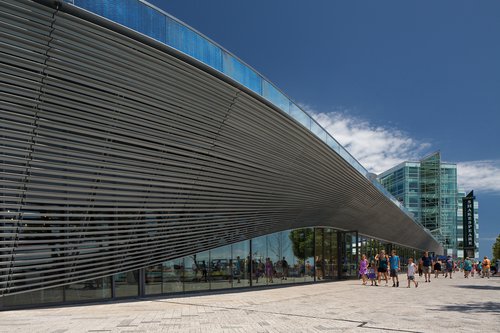 Tnemec's Series 90-97 Tneme-Zinc, which is an advanced technology, two-component, zinc-rich primer was applied first. Crucial to the often wet, nearly always humid lakefront area, Series 90-97 is a moisture-cured primer, curing rapidly so that corrosion- and UV-resistant topcoats can be applied quickly.
Series V69 Hi-Build Epoxoline II formed the second component of the coating system. This advanced generation epoxy has excellent resistance to abrasion, providing needed protection to steel and concrete surfaces.
Series 1078V Fluoronar Metallic features outstanding gloss and color retention. A high-solids fluoropolymer coating with an ultra-durable pearlescent or metallic finish, Series 1078V was an excellent choice for the Navy Pier project due to its ability to meet restrictive VOC regulations.
This coating system was finished off with Series 1079-0763 Metallic Clearcoat. Used to enhance the longevity and weathering qualities of metallic pigmented coatings, Series 1079-0763 is also resistant to most graffiti.
SUSTAINABILITY EFFORTS
Ultimately, the main goal of phase one was to create a truly contemporary, compelling urban park space. Part of that project involved bringing in more sustainable elements than had been there before. Some fixes were easy but made a huge impact, like reducing the energy use by 80% in Festival Hall simply through switching to LED lights. Efforts like planting of 200 native trees and installing 43,000 square feet of permeable pavement, used to divert rainwater and irrigate the planters, also helped make a major impact.
The cumulative effect of all of Navy Pier's efforts lead to the awarding of Gold level certification from the Sustainable SITES Initiative. SITES ratings recognize sustainable land development and management, looking for innovative designs that benefit the environment, local communities and economies.
A CENTENNIAL CELEBRATION
In 2016, Navy Pier hit a major milestone: Its 100th birthday. To celebrate, the original Ferris wheel was retired and replaced by a state-of-the-art new model. Built by the same Netherlands-based company as the original, Dutch Wheels, the new Ferris wheel is the only one of its kind in America. Standing at an amazing 196 feet – 46 feet taller than the original – it features rides of three full revolutions over a 12-minute time span, nearly twice as long as the original ride.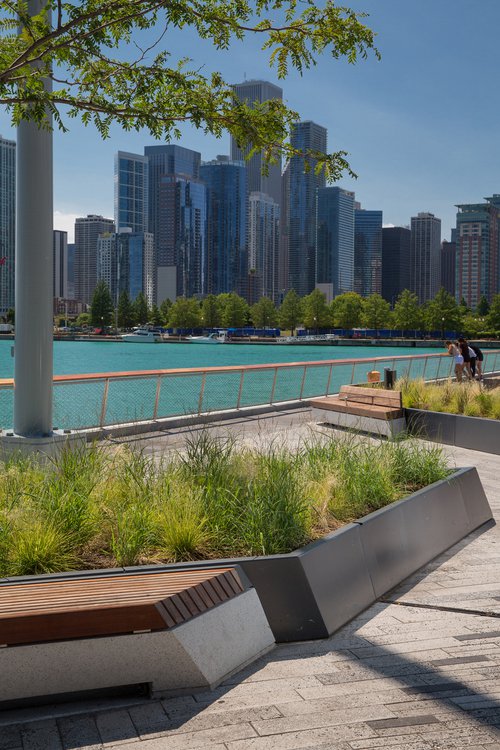 Tnemec provided a second set of coatings for the concrete benches in the waiting area of the new Ferris wheel. Tnemec's Series 27WB Typoxy is a low odor, low VOC water-based epoxy that provides durability and corrosion resistance thanks to special HydroLink curing technology. Series 27WB is an excellent choice for sustainable and environmentally conscious projects, as it meets qualifications of Living Building Challenge, Collaborative for High Performance Schools and LEED v4 project standards.
Series 73 Endura-Shield provided the topcoat for the concrete waiting benches. This aliphatic acrylic polyurethane features high resistance to abrasion, wet conditions, weathering and corrosion in a labor-saving, high-build, single coat application.
CONTINUING IMPROVEMENTS
Phase II improvements as outlined in The Centennial Vision are in progress. A new 220-room Hilton hotel is nearing completion. The Fifth Third Bank Family Pavilion has finished renovations. The Offshore has also opened. It's the nation's largest rooftop venue, a glass-enclosed all-weather venue with a full-service bar and panoramic city and lakeshore views.
Another big improvement is that docks on the North side will be open to public boats, allowing Lake Michigan's boating community to temporarily dock and enjoy some time at Navy Pier.
Sustainability is also being kept in mind with this phase. A wildflower hill is going into Polk Bros Park. LED lighting, having proven so beneficial in Festival Hall, will also go into the Aon Grand Ballroom, Pier Park, Lakeview Terrace and the loading dock. Even more exciting, Navy Pier is on a "Green-e-certified" energy contract, in which 100% of its energy usage is covered through renewable energy.
Ultimately, the goal for Navy Pier is to make it as welcoming as possible for anyone who happens to find themselves in Chicago. Whether it's a morning yoga class, a quick stop while boating to grab a snack, a fun shopping trip for the family, a concert, or a drink with a friend and some world class views, Navy Pier is doing everything possible to stay one of Chicago's most iconic locations for years to come.


E-News
Coating News Direct to Your Inbox
Stay informed about industry news and innovative coating products via email.
Contact Your Rep
Looking for Some Local Coatings Guidance?
Reach out to one of our knowledgable and reliable representatives near you.
TnemecU
Want to Earn Some CEUs?
Check out all of Tnemec's coating courses, available on demand and in person.