Tired Buildings Reawaken With Modern Amenities
Renovating high-profile buildings in Chicago, San Francisco and Hartford, Connecticut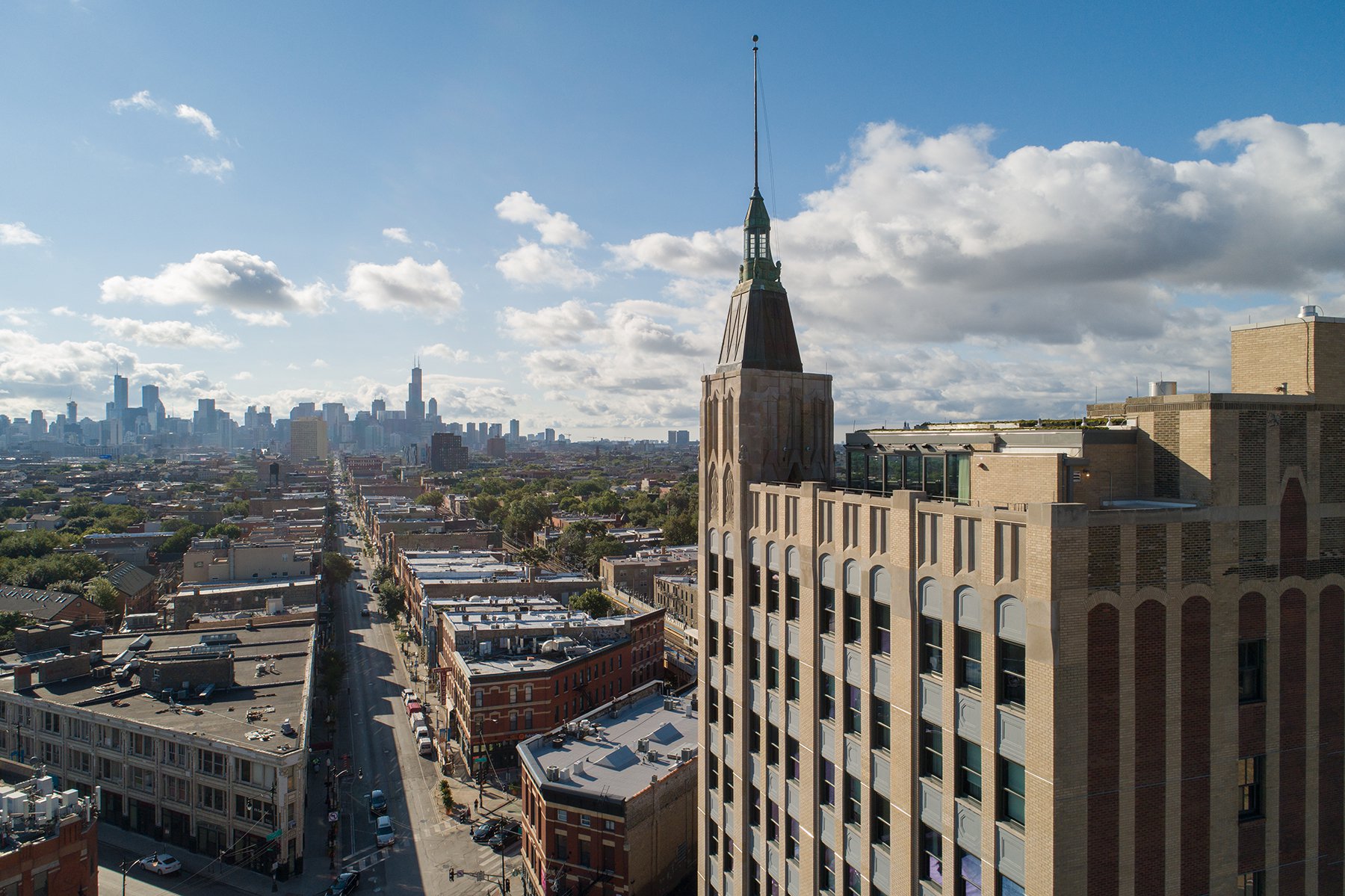 In major cities across the nation, aging high-rise buildings are being transformed from dowdy to dapper with the use of contemporary materials and amenities that fuse the architectural styles of the past with modern enhancements and technology.
"There are 1.5 million commercial buildings more than 50 years old in America," according to the National Trust for Historic Preservation. "As cities across America experience a remarkable renaissance, and young, diverse families increasingly choose to live, work and play in historic neighborhoods, the promise and potential of using our older and historic buildings to revitalize our cities is stronger than ever."
In Chicago, San Francisco and throughout the northeast, older buildings are being rejuvenated through the preservation and restoration efforts of owners and developers who recognize the promise and potential these older, distinguished buildings have to offer.
Rags to Riches in Chicago
"Chicago's hotel boom has provided a major boost for historic preservation, breathing new life into aging downtown buildings," according to Blair Kamin, architecture critic for the Chicago Tribune and contributing editor for Architectural Record. "Now the trend has expanded beyond the loop, turning a tiny Art Deco office building in the hip Wicker Park neighborhood into a boutique hotel, the Robey."
The 12-story building, which opened in 1929 as the Northwest Tower, was among the first skyscrapers constructed outside of Chicago's downtown business district. Today, the Robey Hotel offers 69 guest rooms, a restaurant café and a rooftop lounge with unobstructed views of Chicago's skyline. Guest rooms are designed with custom furniture, bathroom tile, fixtures and original artwork.
A four-year renovation of the building included extensive repairs to the building's masonry and spandrels that the developer wanted to preserve.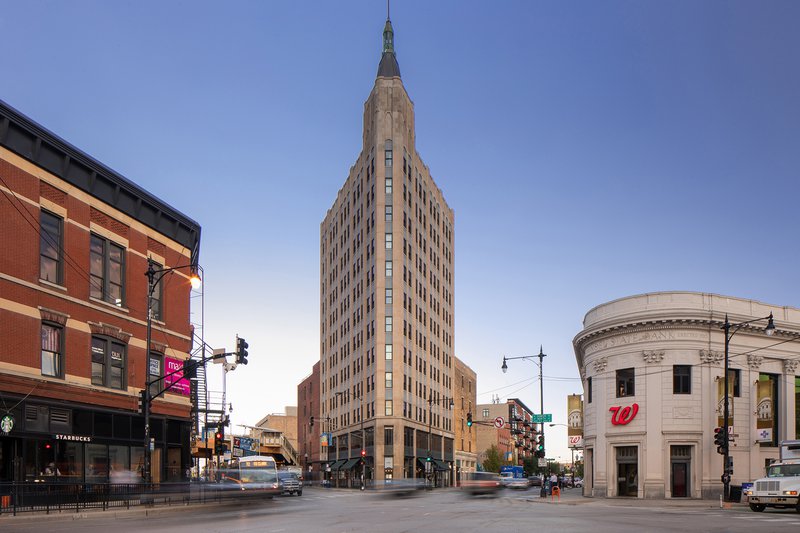 "The exterior was in rough shape when the work started," recalled coating consultant Chris Wascher. "Many of the aluminum spandrels, where they met the concrete and limestone exterior, needed to be repaired or replaced. The spandrels are located all over the building, from ground level to just below the parapet. Several months were required to complete the project due to the intricacy and complex nature of the work."
The spandrels were hand tool and power tool cleaned, primed with a modified polyamidoamine epoxy and given a finish coating of Series 1071V Fluoronar, a low volatile organic compound (VOC) fluoropolymer, that offers outstanding color and gloss retention even in severe exposures.
"Long-term performance of the coating system was critical given the heavy traffic around the hotel," Wascher emphasized. "Permits to work in the area are difficult to obtain, so they wanted a coating system that would keep its appearance for many years."
Bay Area Beautification
A similar low-VOC fluoropolymer coating system was used on the aluminum curtain wall of a recently renovated 34-story skyscraper at 45 Fremont Street in San Francisco, California. Built in 1978, the office tower is located in the city's prestigious South Financial District.
"Older buildings around the city are showing their age, especially with all the new construction going on in the area," explained coating consultant Carl Bowers of Amos And Associates, Inc. "The building's owner was proactive in wanting to maintain the attractive appearance of this Class A office tower."
The building's owner and architect based their coating decision on a visual inspection of side-by-side mockups comparing the Series 1071V Fluoronar coating system with a competitor's fluoropolymer product. Series 1071V was selected based on its uniform texture and smoothness.
Working from swing stages, the coating contractor was challenged to give the roller-applied coating system the appearance of a spray-applied, factory-finished powder coating.
"The coating contractor made this possible by applying enough film on the surface to level out without showing any roller marks," Bowers acknowledged. "When you drive past this building, or see it from the rooftop of another building, you would never know it was roller-applied. It really looks like a factory or spray-applied finish."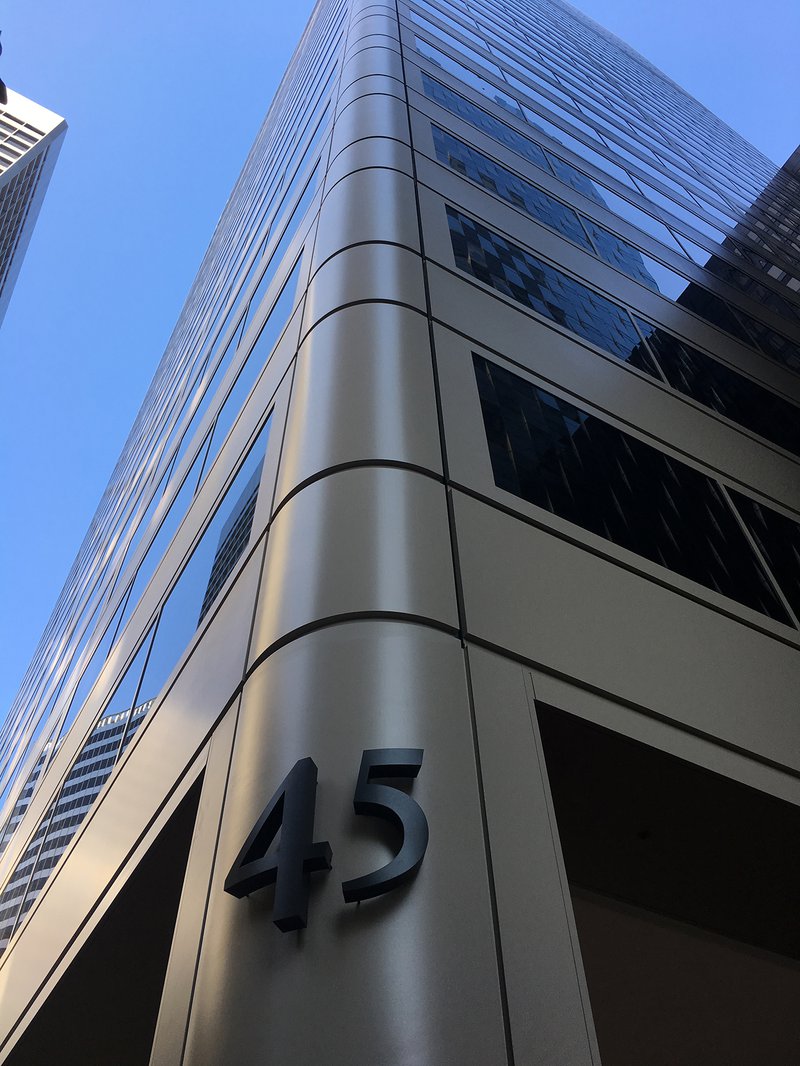 Following renovation, the building's owner earned the Leadership in Energy and Environmental Design (LEED) Gold certification from the U.S. Green Building Council for an Existing Building: Operations & Maintenance (EB O&M).
Reviving the Heart of Hartford
In Hartford, Connecticut, the restoration of the 34-story Travelers Tower lasted two years and cost $30 million to complete.
"Travelers Tower was the most aspirational structure built in downtown Hartford in the 20th century," the principal of a cultural resource development firm told the Hartford Courant. "The building in every way was conceived as something that would enlarge and project the stature of this city above and beyond Connecticut even."
Completed in 1919, the corporate headquarters for Travelers Insurance Companies was showing its age when restoration work started in 2012.
"Decorative features had badly weathered," reported the Courant. "The granite surface and mortar joints had cracked and needed repair."
The building's cast iron window surrounds and copper cornice were restored by an architectural preservation and restoration contractor that specialize in historical masonry and painting, Cenaxo, LLC.
"Cenaxo's experienced craftsmen were the first to work on the deteriorating cast-iron and copper since the building's completion over 90 years ago," explained the company website. "During the restoration process, our crew removed the original lead-based coatings using chemical and media cleaning methods. After properly preparing the surfaces, our team applied a three-coat fluoropolymer paint system, selected for its extreme durability."
Cast iron surfaces received two coats of a modified polyamidoamine epoxy coating and a finish coat of Series 1070 Fluoronar, a high-solids fluoropolymer coating in either a neutral beige or a bronze color. The copper cornice received two coats of a polyamide epoxy and a finish coat of Series 1070 in a patina green color.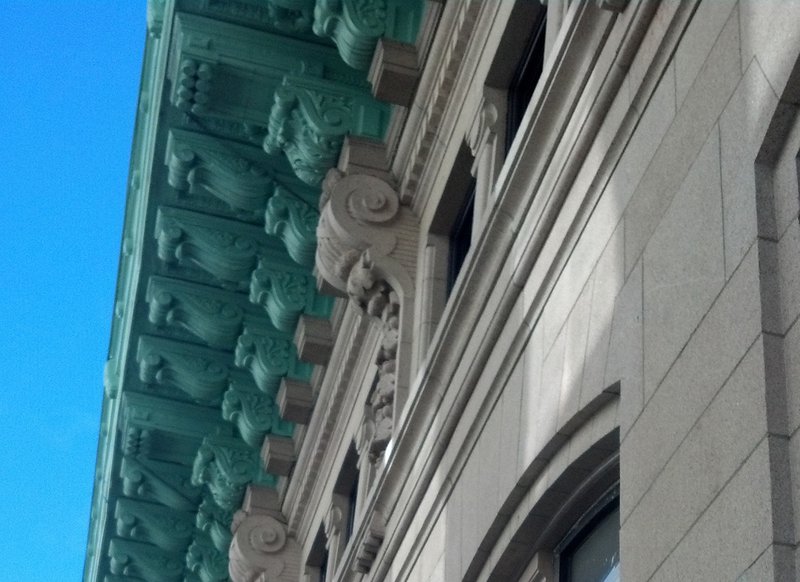 "This was a large project that required many different orders for material," explained coating consultant David Pope of The Righter Group. "It was very important to the contractor that every single gallon of the finish was a perfect match without being too light or too dark. Tnemec did a fabulous job of perfectly matching each batch they sent out."
The Righter Group has a long list of architectural preservation and restoration projects in northeastern cities that have used Tnemec coating systems.
"And that's the reason why architects specify Tnemec, because they know we have the products, experience and technical know-how when it comes to these landmark projects," Pope added.


---
Sustainable Building
Need Coatings for LEED Projects?
Tnemec offers a long list of low VOC coatings built to protect sustainable structures.
Contact Your Rep
Looking for Some Local Coatings Guidance?
Reach out to one of our knowledgable and reliable representatives near you.
E-News
Coating News Direct to Your Inbox
Stay informed about industry news and innovative coating products via email.