Boulevard Brewing Expansion is Cause for 'Cellar-bration'
A New Water System is What's Brewing at Boulevard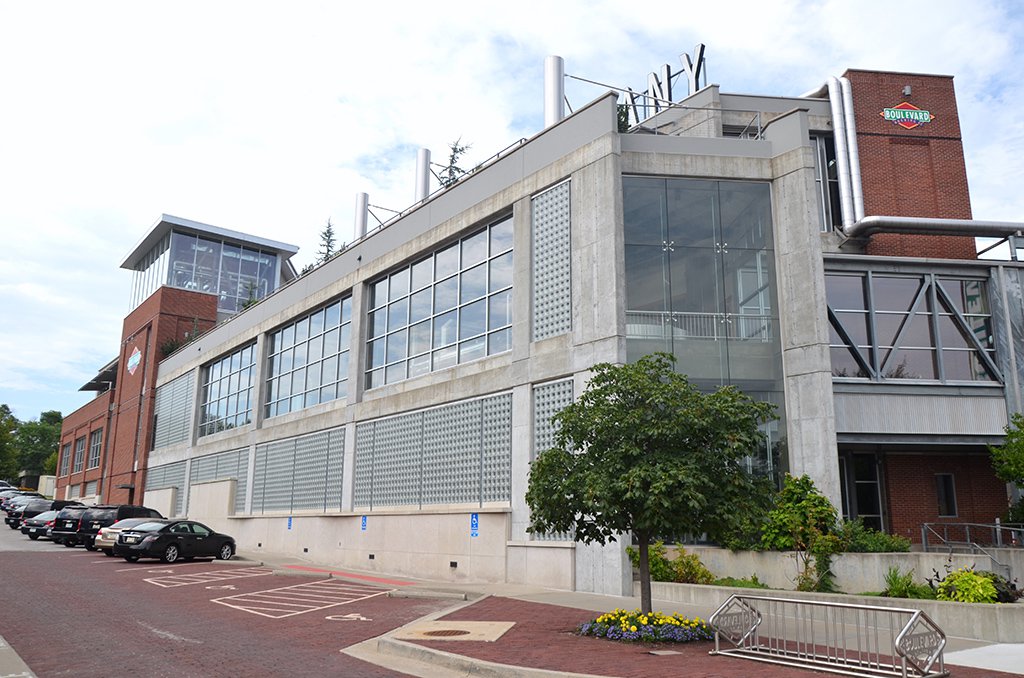 Since the completion of a multi-million-dollar expansion of its Cellar Five fermentation building, Kansas City-based Boulevard Brewing Company has been busy rolling out barrels of its popular craft beers into new major markets across the United States and overseas.
"With more fermentation capacity at the brewery, we have the ability to enter markets that have long been on our wish list," announced Boulevard Vice President of Sales, Bobby Dykstra, in a news release. Soon after completion of the Cellar Five project, the brewery began shipping beer to Michigan, Kentucky, Rhode Island, upstate New York and Alabama.
The $12 million Cellar Five project houses six, 1,000-barrel fermentation tanks, which expanded the brewery's capacity by 40 percent to more than 300,000 barrels a year. The 3,600-square-foot fermentation building has space for six more tanks in anticipation of future expansion. Included in the project was a two-story building to house utilities, a controller room, a cleaning support system for the fermentation tanks, and a room where strains of yeast are managed.
"This is the accumulation of all of our collective knowledge that we've gained over the last 25 years in the industry," Boulevard's Director of Engineering, Mike Utz, told the Kansas City Business Journal. "It's state of the art, flexible and efficient."
Each fermentation tank has the capacity for 2,000 half-barrel kegs or 330,000 12-ounce bottles. After brewed beer is pumped into the fermentation tanks, yeast and other flavors are added.
"It doesn't need to be done by hand anymore," Utz explained to the Journal. "We're able to circulate and really fine tune the exact characteristic of the beer that we want. Control is what it's all about. We can totally tweak a recipe, dial it in exactly the way we want it with this kind of system, and make it repeatable day in and day out."
The Cellar Five expansion included the addition of new beer filtration equipment, an effluent equalization system, a pumping station and wet well that increased the brewery's capacity for treating wastewater produced during the brewing, fermentation and packaging of beer. Wastewater produced by the brewery is treated onsite to control its pH and comply with city requirements.
"Brewery wastewater tends to gravitate toward a high pH due to the amount of caustic used for cleaning," according to a Brewers Association manual on water and wastewater treatment. "Acidic conditions cause damage to concrete structures and inhibit subsequent biological treatment processes."
The temperature and pH of effluent from the fermentation tanks is held in a 26-foot-deep concrete equalization basin where it is allowed to equalize before being introduced to downstream treatment processes. The pumping station wet well consists of 10-foot diameter pre-cast concrete cylinders.
The equalization basin and wet well were lined with abrasion- and chemical-resistant coating systems recommended by Scott Keilbey, Tnemec representative with Midwest Coating Consultants, Inc. Keilbey was notified of the effluent equalization and wet well project by Smith & Loveless Inc., which designed and constructed the wastewater systems.
Project engineers with Boulevard Brewing Company based their coating selection on a careful review of case studies involving other projects that used Tnemec's Perma-Shield family of products, which are specifically designed for wastewater immersion environments.
"Mike Utz and Project Manager Dali Grabar, shared a detailed description of the waste stream and the varying temperatures of the effluent during different stages of the pre-treatment process," Keilbey recalled. "Using this information, we collectively arrived at two coating systems for the project."
The interior surfaces of the equalization basin and wet well were prepared in accordance with SSPC-SP 13/NACE No. 6 Surface Preparation of Concrete to achieve an International Concrete Repair Institute (ICRI) Concrete Surface Profile (CSP) 5. The concrete was then patched and filled with Series 218-1000 MotarClad, an aggregate-reinforced epoxy-modified cementitious mortar, to eliminate voids and pinholes prior to being topcoated.
Series 436 Perma-Shield FR, a fiber-reinforced, abrasion-resistant lining, was spray-applied to the equalization basin at 125 miles dry film thickness (DFT), followed by a finish coat of Series 435 Perma-Glaze, a 100 percent solids-modified polyamine epoxy spray-applied at 15 mils DFT.
The wet well was topcoated with Series 252SC ChemBloc, a highly chemical-resistant novolac vinyl ester lining with fiberglass reinforcement applied at 125 mils DFT.
"The biggest challenge with the project was to keep the cured concrete sufficiently dry for coating," Keilbey added. "These structures were below grade, so every time it rained the concrete would be wet. Getting the concrete dried out long enough to get the coating system applied was an obstacle."
In 2014, Boulevard became part of the world-renowned Duvel Moortgat family of breweries. Currently available in more than 35 states, the District of Columbia, as well as in Belgium, Brazil, Canada, China, Finland, France, Netherlands, Norway, Sweden and the UK, Boulevard has plans to increase distribution into more states and additional global distribution in the coming years.
Contact Your Rep
Looking for Some Local Coatings Guidance?
Reach out to one of our knowledgable and reliable representatives near you.
Industries
Coatings for Your Industry
Tnemec provides protective coatings in various industries around the world, from wastewater to architecture.
Reach Out to Tnemec
Get the Information You Need
Contact us now and request the exact information you're looking for. We look forward to getting you an answer ASAP.