Urban Streams are Deluged by a 'Perfect Storm'
Tnemec-Coated Pipes Aid Flood Efforts Near Kansas City's Retail District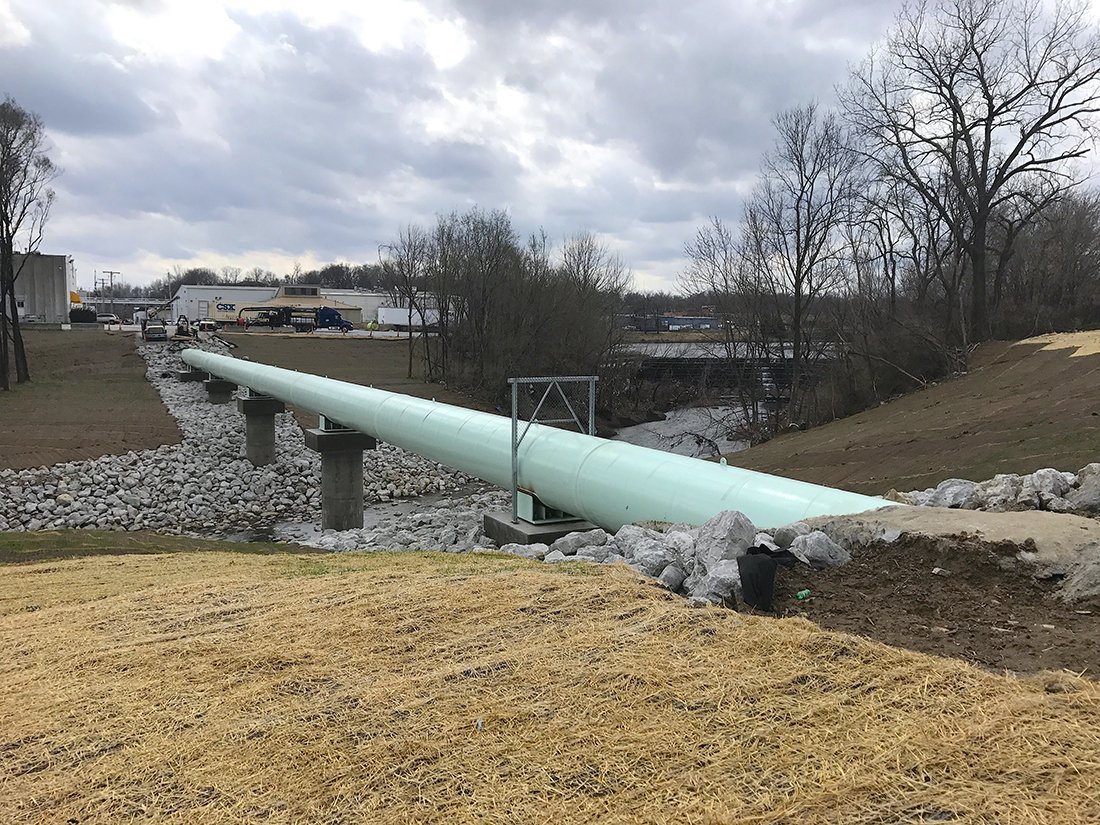 In cities across the nation, the replacement of permeable soil and vegetation with roads, parking lots, buildings and sidewalks has created a "perfect storm" for urban streams, resulting in increased flood hazards and channel erosion.
"Common consequences of urban development are increased peak discharge and frequency of floods," explained the U.S. Geological Survey (USGS) fact sheet The Effect of Urban Development on Floods. "With less storage capacity for water in urban basins and more rapid runoff, urban streams rise more quickly during storms and have higher peak discharge rates than do rural streams."
Increased channel and bank erosion of urban streams due to flooding is another effect of urban development.
"In many urban areas, stream-bank erosion represents an ongoing threat to roads, bridges and other structures that is difficult to control even by hardening stream banks," the USGS acknowledged.
Flooding and flood-related damages are recurring problems along the Brush Creek watershed that encompasses an urbanized swath of Kansas and Missouri consisting of residential communities, commercial districts, industrial properties, golf courses, parks and cemeteries. Kansas City's premier retail district, Country Club Plaza, is located along the north bank at the lower end of the creek.
"Long-established residential development areas along Brush Creek sustain repetitive flood damage to homes and personal property," according to a study published by the Kansas City District, U.S. Army Corps of Engineers. "Many of the bridges and other public infrastructure in the vicinity of Brush Creek are routinely overtopped and subjected to flood damage."
The Army Corps of Engineers cited two major Brush Creek flood events that occurred in 1977 and 1998. In 1977, more than $100 million in property damage was reported and in 1998, damage was estimated at more than $50 million, according to the National Weather Service.
Last summer, heavy rains caused Brush Creek to overflow its banks flooding much of Westport and the Country Club Plaza and a 72-inch concrete sewer main for an aerial crossing collapsed sending hundreds of gallons of wastewater per minute spilling into Brush Creek.
"Erosion of the creek had weakened the support on the north end of the aerial crossing," acknowledged a news release from the Kansas City, Missouri, Water Services Department. "An evaluation of the aerial sewer showed the entire structure should be replaced and it was determined a new 72-inch steel pipe on concrete piers was the most cost effective replacement."
Specifications for that project called for Series 431 Perma-Shield PL, a 100 percent solids ceramic epoxy, to be applied by the fabricator on the inside and outside of the new steel pipe segment measuring 450 linear feet. Series 431 is formulated to resist the elevated levels of hydrogen sulfide gas (H2S) and other sewer gases, which can rapidly corrode steel and ductile iron pipes used in severe wastewater environments.
"The project attracted interest from various steel pipe suppliers and their applicators who made alternative suggestions for polyurethane coatings to be used," according to Scott Keilbey of Midwest Coating Consultants, Inc. "Kansas City Water Services Department and the design engineer, Burns & McDonnell, stayed with their specification for Series 431 based on their prior experience with the product."
Northwest Pipe supplied the steel pipe and coated the interior and exterior in-shop. Leath & Sons erected the pipe, welded it together and repaired the weld seams with Series 431 on both sides.
"The aerial crossing is visible from the Swope Parkway, so they decided to apply a polyurethane finish coat to the pipe's exterior to enhance its appearance," Keilbey said.
The overall project included the addition of a rock box to catch debris, added stabilization to prevent future erosion of the creek's embankment, the installation of new piers and construction of two new junction structures.
"On dry days, this pipe carries millions of gallons of wastewater across Brush Creek, ultimately ending up at the Blue River Wastewater Treatment Plant," the Kansas City, Missouri, Water Services Department news release added.
The Kansas City, Missouri, Water Services Department maintains and operates water treatment and distribution systems, stormwater management systems, and wastewater collection and treatment systems for residential and business customers in Kansas City and for wholesale customers in the Kansas City area.
Kansas City has entered a 25-year consent decree with the federal government to overhaul the city's outdated sewer system at an estimated cost of $4.5 billion. Program management services on the city's "Overflow Control Program (OCP)" are provided by Burns & McDonnell, which has served as consultant for more than a decade.
Contact Your Rep
Looking for Some Local Coatings Guidance?
Reach out to one of our knowledgable and reliable representatives near you.
Industries
Coatings for Your Industry
Tnemec provides protective coatings in various industries around the world, from wastewater to architecture.
Reach Out to Tnemec
Get the Information You Need
Contact us now and request the exact information you're looking for. We look forward to getting you an answer ASAP.