Wastewater Projects Surface in Public and Private Sectors
Tnemec coatings and linings help Tennessee projects stay afloat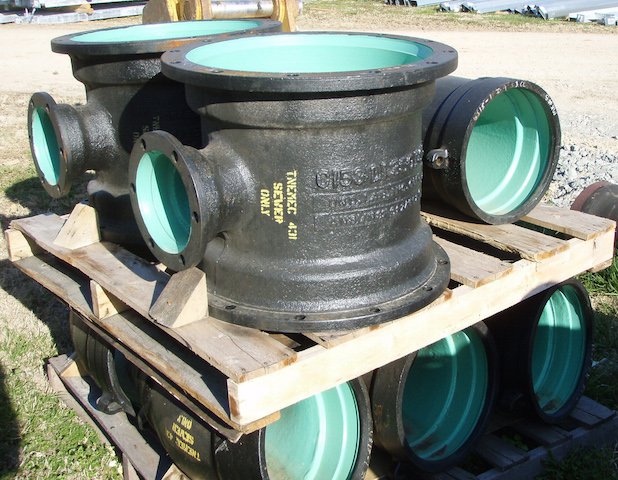 The nation's aging water and wastewater treatment systems are drowning in antiquated infrastructure, according to an American Water Works Association (AWWA) official who recently appeared before the U.S. Senate Committee on Environment and Public Works. Aurel Arndt, who chairs the AWWA Water Utility Council, explained that the nation's buried drinking water infrastructure needs $1 trillion over the next 25 years, reported WaterWorld magazine.
Citing a 2012 AWWA report, Arndt told the Senate committee, "Above-ground facilities, wastewater, stormwater, and other water-related investment needs are at least as large, and must be added to reflect the true magnitude of the water investment needs before our country."
In its "Report Card for America's Infrastructure," the American Society of Civil Engineers (ASCE) attributed the inadequate capacity of America's wastewater systems for the discharge of an estimated 900 billion gallons of untreated sewage each year.
"The Congressional Budget Office, Environmental Protection Agency (EPA) and other groups have estimated that it could take more than $300 billion to address the nation's sewage collection and treatment infrastructure needs over 20 years to keep our surface water safe and clean," the ASCE report stated. "This is twice the current level of investment by all levels of our government."
An estimated 800,000 miles of public sewer mains and 19,739 wastewater pipe systems exist in the U.S., the ASCE report noted. 
"Many of these pipes were installed after World War II, meaning they are now approaching the end of their useful life," the ASCE report emphasized. "Capital investments in those pipes account for between 80 percent and 85 percent of all wastewater system investment requirements in the United States."
Earlier this year, the EPA released a survey that placed a $271 billion price tag on the cost of wastewater infrastructure projects needed within five years.
"The EPA offers financial assistance to address the types of infrastructure needs covered in the survey," an EPA press release stated. "The Clean Water State Revolving Fund has provided more than $111 billion in low-interest loans since its inception in 1987, with $5.8 billion in FY (fiscal year) 2015 alone."
Low-interest loans are available through state-funded programs, such as Tennessee's Drinking Water State Revolving Fund Loan Program, which has awarded more than $1.6 billion since its inception in 1987.
"The funds available through the State Revolving Fund (SRF) Loan Programs help communities address current infrastructure needs and prepare for future needs, improving the environmental health of communities across Tennessee," announced Governor Bill Haslam in a March 11 news release.
Camden, Tennessee, received SRF loans of $1,997,000 and $7,358,000 for wastewater infrastructure improvements that increased average daily flow capacity from 0.5 million gallons per day (MGD) to 1.5 MGD with a peak flow rate of 6.6 MGD. The 20-year loans are funded with an interest rate of 0.96 percent.
The existing wastewater treatment plant (WWTP) in Camden was renovated in two phases following a comprehensive evaluation by Civil Infrastructure Associates (CIA) Engineers.
"These two phases enabled the city to comply with new discharge limits and flow requirements, provide services to additional customers (including industries), accommodate future growth, and optimize processes for increased efficiency and safety," explained CIA's website.
Improvements at the Camden WWTP included a new energy-efficient influent pump station, influent force main, expanded disinfection system, effluent weir and controls, and a Supervisory Control and Data Acquisition (SCADA) system that allows real-time notification of plant operating status. A land application site for treated wastewater effluent was also included in the project.
"The project involved new construction that used Tnemec protective coatings on various surfaces," explained Tom Williams, Tnemec Representative of NexGen Coating Resources, Inc. "The engineer wanted the best wastewater coatings on the market to protect these substrates from corrosion."
The plant's ductile iron pipe was coated with Tnemec's 100 percent solids, ceramic-modified epoxy liner specifically designed for wastewater immersion and fume environments. Series 431 PermaShield PL resists the elevated levels of hydrogen sulfide gas (H2S) and other sewer gases, which can rapidly corrode ductile iron pipes used in wastewater environments.
Series 431 contains high-quality, ceramic microspheres (20 percent by volume), which add exceptional abrasion resistance to an already durable epoxy film. Its reflective light green color also facilitates visual inspection of ductile iron pipe using lamping, camera and closed circuit television.
The project engineer for the Camden WWTP was introduced to Series 431 by Williams, who presented results of extensive testing for permeation resistance that demonstrated the product's superior performance in protecting the interior of pipe and fittings against higher levels of sewer gases.
"The pipe supplier had been using another coating product when the engineer specified Series 431," Williams recalled. "The project engineer stood firm with the specification for a higher performance coating."
Concrete infrastructure at the Camden WWTP was resurfaced with a variety of H2S and chemical resistant 100 percent solids epoxy, novolac epoxy and waterborne acrylate coatings.
Series 431 was also specified for 735-feet of 12-inch diameter ductile iron pipe at the $180 million Dal-Tile ceramic tile plant and distribution center in Dickson, Tennessee. The coating was specified by the project's engineer, James + Associates, Inc., and shop-applied by Consolidated Pipe & Supply Company, Inc., in Bessemer, Alabama.
The pipe is part of the infrastructure to handle wastewater generated during manufacturing at the 1.4-million-square-foot Dal-Tile factory recognized for its advanced technology. The two-phase project involved both the company and the municipal utility in Dickson.
"The first phase was the municipal phase, followed by the private sector phase," observed Mark Goulet, Tnemec Representative, of NexGen Coating Resources. "Series 431 was used for both phases."
The Dal-Tile project's engineer and the pipe fabricator learned of Series 431 through presentations made by Goulet.
"The engineer was looking for a premium coating product for longevity," Goulet shared. "I've spoken with them a number of times since this project was completed and they remarked that they enjoyed working with the product."
In its report card on the nation's major challenges involving sewer collection and treatment needs, the ASCE concluded, "By far, pipes represent the largest capital need, comprising three quarters of total needs in recent years. Fixing and expanding the pipes will address sanitary sewer overflows, combined sewer overflows, and other pipe-related issues."
Reach Out to Tnemec
Get the Information You Need
Contact us now and request the exact information you're looking for. We look forward to getting you an answer ASAP.
Industries
Coatings for Your Industry
Tnemec provides protective coatings in various industries around the world, from wastewater to architecture.
Contact Your Rep
Looking for Some Local Coatings Guidance?
Reach out to one of our knowledgable and reliable representatives near you.