Water Tanks Trending Toward Artful Expression
More and More Artists are Using Tanks as Their Canvas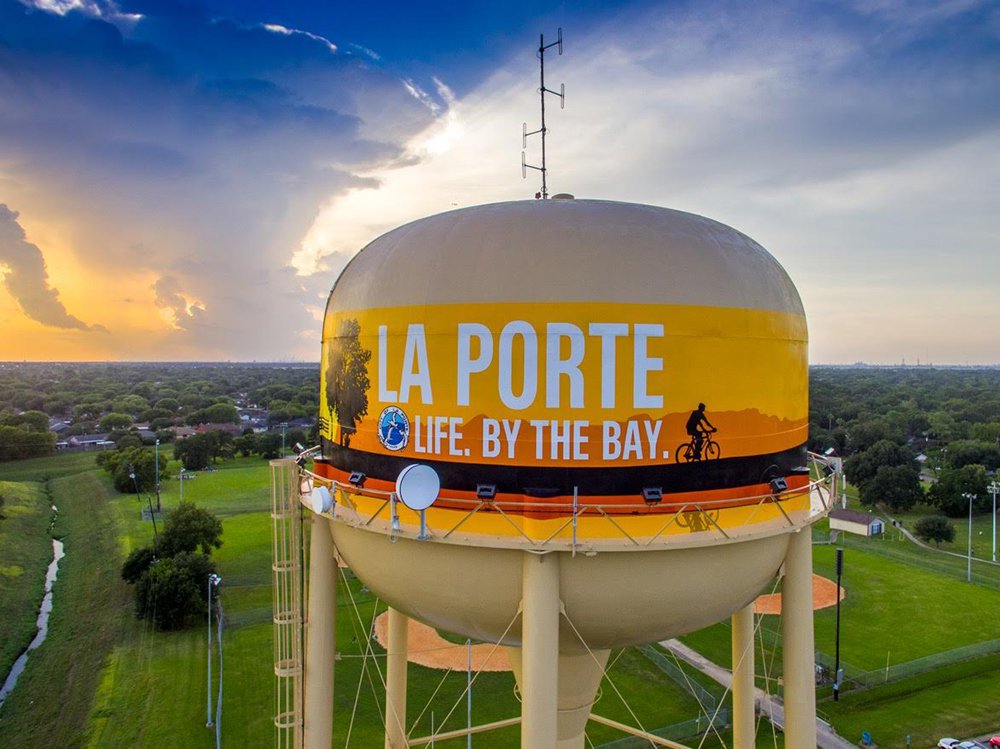 The La Porte, Texas, legged water tower with its picturesque "Life By The Bay" mural recently appeared in a Houston Chronicle profile of "The Safest Suburbs in the Houston Area."
In its portrayal of a "booming" Omaha, Nebraska, suburb, the local daily newspaper designed a layout dominated by a photograph of the town's composite water tank proclaiming "Gretna The Great Life."
The colorful "Peachoid" water tank in Gaffney, South Carolina, has appeared in several prestigious newspapers including The Wall Street Journal, Los Angeles Times and The SeattleTimes.
Across the nation, these towering symbols of community pride are attracting the attention of general news media and earning recognition from national awards programs that acknowledge steel fabricators, contractors and owners for outstanding water tank projects.
Excellence in water tank design and aesthetics are recognized by the Tnemec Company's Tank of the Year contest and by the Annual Product Award for Elevated Tanks sponsored by the Steel Tank Institute-Steel Plate Fabricators Association (STI-SPFA).
"The Tank of the Year contest has motivated creative thinking when it comes to the use of graphics on elevated water towers," according to coating consultant Erik Otten of Taylor Coating Sales, Inc. "I can't go into a water plant or an engineer's office without seeing the annual Tank of the Year calendar hanging on a wall somewhere. The contest has been incredibly popular."
This view was echoed by Doug Hansen, Director – Water Tank Market for Tnemec, who cited the popularity of the competition among applicators, engineers, municipalities and communities over the past 11 years.
"Last year, 246 water tanks were nominated from across the U.S. and Canada," Hansen recalled. "We are thrilled with how the contest has grown year after year due to individual communities supporting their local water tanks. Since its inception in 2006, the contest has become a great way to showcase what's going on in the water tank industry."
Nominations for Tnemec's Tank of the Year contest are being accepted online through October 2, 2017, and online voting for the People's Choice water tank will begin October 9. The People's Choice winner will be considered alongside eleven other committee-determined finalists for the official Tank of the Year crown, which will be announced Friday, October 27.
For years, the STI/SPFA has celebrated newer water tank projects with its Annual Product Awards, as well as structures that are a minimum of 100 years old and still in active service through enrollment in its Century Club.
"They are not only enduring examples of the strength and flexibility of steel, but are treasured landmarks in communities across the nation," according to the STI/SPFA. "Water tanks are some of the most identifiable structures across the United States, and we feel it is important to honor these tanks not only for their extraordinary service life, but also for the role they play in ensuring the safety of our water supplies."
This year's first place winner of the STI-SPFA Elevated Tank Award was a new 1.5 million-gallon, welded-steel tank in St. Charles, Illinois. Located on the picturesque Fox River, the award-winning 167-foot-high welded-steel tank features a pair of 12-foot-by-19-foot red foxes borrowed from the city's logo.
"This tank promotes and demonstrates the flexibility and aesthetics of steel designed structures that other materials just can't deliver and provides a tank the community certainly is proud of," according to a project description published on the STI-SPFA website.
The 1.5-inch-thick steel plates were fabricated at CB&I in Clive, Iowa, where it was shop-primed using a single-component, aromatic zinc-rich urethane coating, Series 94-H2O Hydro-Zinc. A four-person crew from CB&I in Plainfield, Illinois, applied coatings to the tank's interior and exterior.
A low volatile organic compound (VOC) fluoropolymer coating system from Tnemec was used on the tank's exterior for its long-term resistance to ultraviolet (UV) light, corrosion, and outstanding color and gloss retention.
"The coating system is recommended on structures where extremely long-term maintenance cycles are desired," explained Otten. "The project's design and construction engineering firm has been using this fluoropolymer coating system since its introduction in the early 2000s."
Exterior steel received an intermediate coat of an acrylic polyurethane applied over the primer and a finish coat of Series V700 HydroFlon, a low-VOC fluoropolymer coating. Interior steel received two coats of Series N140 Pota-Pox Plus, a polyamidoamine epoxy, which is certified in accordance with NSF/ANSI Standard 61 for use on interior potable water tanks.
Similar coating systems have been used to protect exterior steel from UV light degradation and corrosion on iconic water tanks, including the La Porte, Texas, and Peachoid towers.
Tnemec fluoropolymer exterior finish coatings were introduced to the potable water tank market more than 15 years ago. Available in virtually any color, fluoropolymer coatings offer unprecedented long-term gloss and color retention, excellent resistance to abrasion and chalking, and user-friendly application with brush, roller or spray equipment.
Reach Out to Tnemec
Get the Information You Need
Contact us now and request the exact information you're looking for. We look forward to getting you an answer ASAP.
Contact Your Rep
Looking for Some Local Coatings Guidance?
Reach out to one of our knowledgable and reliable representatives near you.
Industries
Coatings for Your Industry
Tnemec provides protective coatings in various industries around the world, from wastewater to architecture.