Iconic Water Tanks Tower over Kansas City Landscape
Two Water Tanks in KC Add to the History of the Town and Tnemec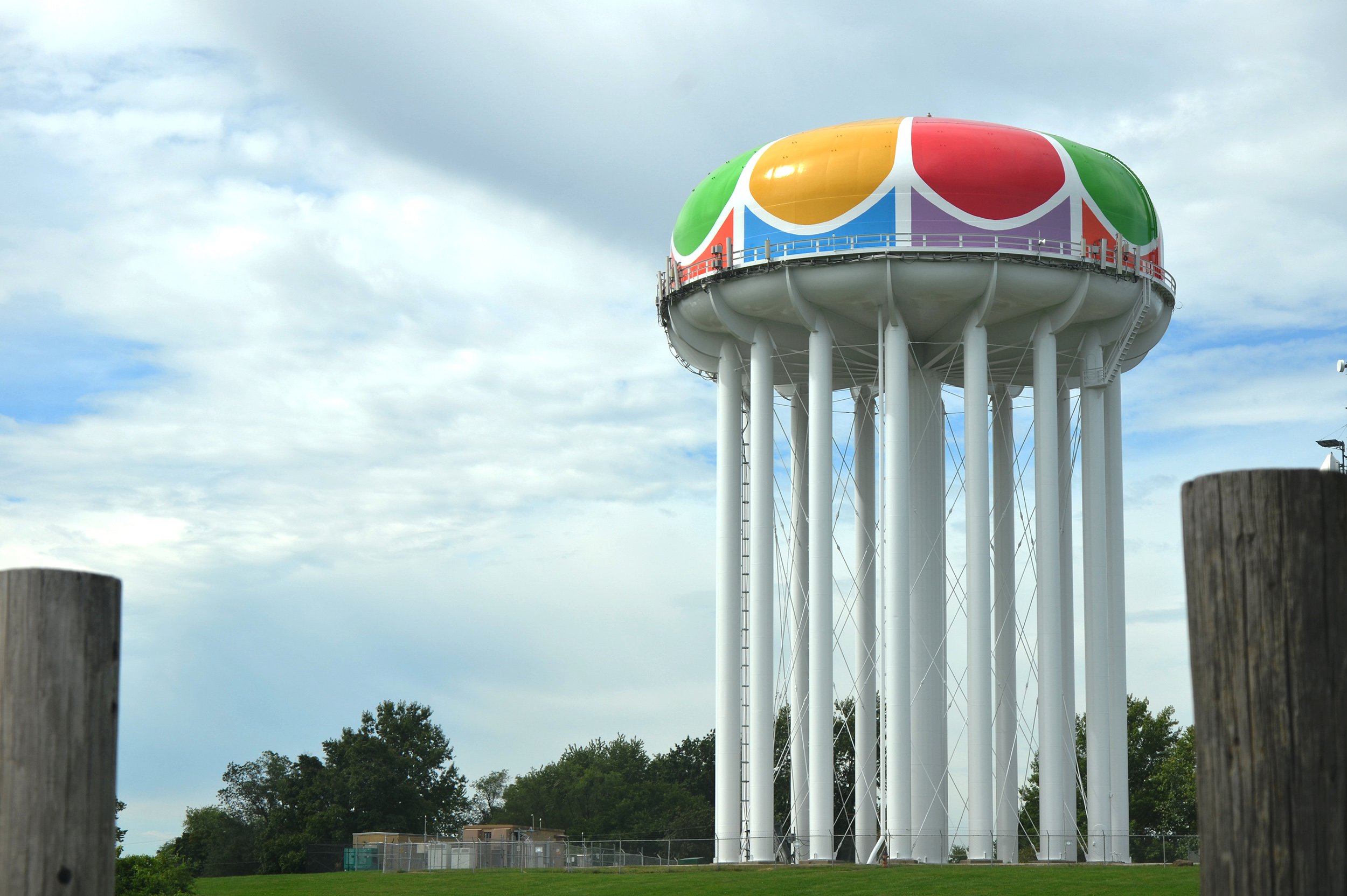 Standing tall among Kansas City's famous fountains, giant shuttlecocks, and historic monuments are a pair of iconic landmarks that for decades have been associated with fun, fantasy and fortified castles in far-off lands.
With its colorful logo, the 2-million-gallon water tower near the entrance to Worlds of Fun has greeted visitors to the popular amusement park in northeast Kansas City for more than four decades. In the Waldo neighborhood south of Kansas City, a 1-million-gallon concrete standpipe with its castle-like features gained national notoriety in the late 1920s as one of the largest reinforced concrete water towers of that period.
Built in 1955, the Worlds of Fun water tower is owned by Kansas City Water Services, which added the colorful logo when the amusement park opened in 1973.
"The Worlds of Fun water tower was one of the first tanks in the nation to use an intricate logo design," according to Scott Keilbey of Midwest Coating Consultants, Inc. "It was also one of the first water tanks to use an aliphatic polyurethane coating system for long-term color and gloss retention."
In the late 1980s, the Worlds of Fun water tower achieved another first when a new clear coat aliphatic acrylic polyurethane was applied over the logo to enhance the finish and extend long-term weathering properties of the topcoat.
The exterior of the tank was recoated last year as part of an interior and exterior restoration that was started in 2012. The project required a full scaffolding system to repair steel inside the tank, as well as an exterior containment system to prevent abrasive materials and dust from drifting into the surrounding environment.
"This last time around, we used Series 700 HydroFlon, an advanced fluoropolymer coating system, with the longest lasting gloss and color retention currently available in the water tank market," explained Keilbey. "Over the past 40 years, the Worlds of Fun water tank has been the beneficiary of three of the most innovative coating technologies of their time for color and gloss retention."
As a footnote, Keilbey mentioned this year's restoration of the Worlds of Fun water tower involved a project engineer for Kansas City Water Services, John Reddy IV, whose father was plant manager for all of the city's water facilities in 1973 when the original logo made its debut. 
"My father was the Tnemec representative who worked on the original logo project," Keilbey noted, "and I was involved in selecting the last two coating systems for the water tower. So the Reddys and Keilbeys represent two generations of involvement with the Worlds of Fun project."
The 13-story, 135-foot-tall Waldo Water Tower was built in 1920 by the Kansas City, Mo. Water Department to provide service to surrounding neighborhoods. The Tower was taken out of service as a functioning water storage tank in 1957.
"One of the largest reinforced concrete standpipes ever attempted was built due to Kansas City's innovative and challenging use of this construction method," according to the Waldo Tower Historic Society website. "Kansas City's first water landmark was declared by the American Water Works Association in 1975. The Tower was listed in the World Book Encyclopedia from 1929 through 1946 as an early example of a continuously poured steel reinforced concrete structure."
The Tower became the centerpiece of a 19-acre park, which today includes walking trails, a rain garden, baseball fields, and a children's play area. The park and tower are maintained by the Kansas City Parks and Recreation Department. In 1977, Waldo Tower was placed on the National Register of Historic Places.  
In 2010, a condition assessment and restoration study of the Tower by Treanor Architects of Kansas City, Mo., identified needed repairs that included a new roof, concrete patching, installation of architectural lighting at both ground and balcony levels, wrought iron fencing, and exterior painting.
The painting work was divided into two phases with different coating contractors designated for each phase. Phase 1 restoration involved painting the tower's upper balcony level, while the remainder of the structure was completed under Phase 2.
The tower's exterior substrate was power-washed and given a primer coat of Series 151-1051 Elasto-Grip FC, a waterborne polyamine epoxy, which is excellent as a tie-coat over existing coatings. Two white finish coats of Series 156 Enviro-Crete, a premium waterborne acrylate, were applied at 4.0 to 6.0 mils DFT per coat. In addition to filling and bridging minor hairline cracks, Enviro-Crete provides excellent elastomeric protection against driving rain, alternate freezing-thawing and ultraviolet (UV) light.
"The tower is a landmark, so they wanted a coating system that would perform well and last a long time," Keilbey noted. "Series 156 is an ideal exterior concrete and masonry finish coating for restoration projects such as Waldo Tower."
Future needs listed on the Waldo Tower Historic Society website include an elevator leading to the observation floor on the balcony level, landscaped walkways, flower gardens, historical interpretative signage, a larger accessible road and parking facilities.
Reflecting on the recent completion of coating work on both the Worlds of Fun water tank and Waldo Tower, Keilbey added, "We are very proud to be involved with restoring these historic landmarks for future generations of Kansas Citians and visitors to enjoy."
Contact Your Rep
Looking for Some Local Coatings Guidance?
Reach out to one of our knowledgable and reliable representatives near you.
Industries
Coatings for Your Industry
Tnemec provides protective coatings in various industries around the world, from wastewater to architecture.
Reach Out to Tnemec
Get the Information You Need
Contact us now and request the exact information you're looking for. We look forward to getting you an answer ASAP.