Tnemec Names the 2020 Tank of the Year Winner
Seaside tank awarded highest prize during Tnemec's annual contest.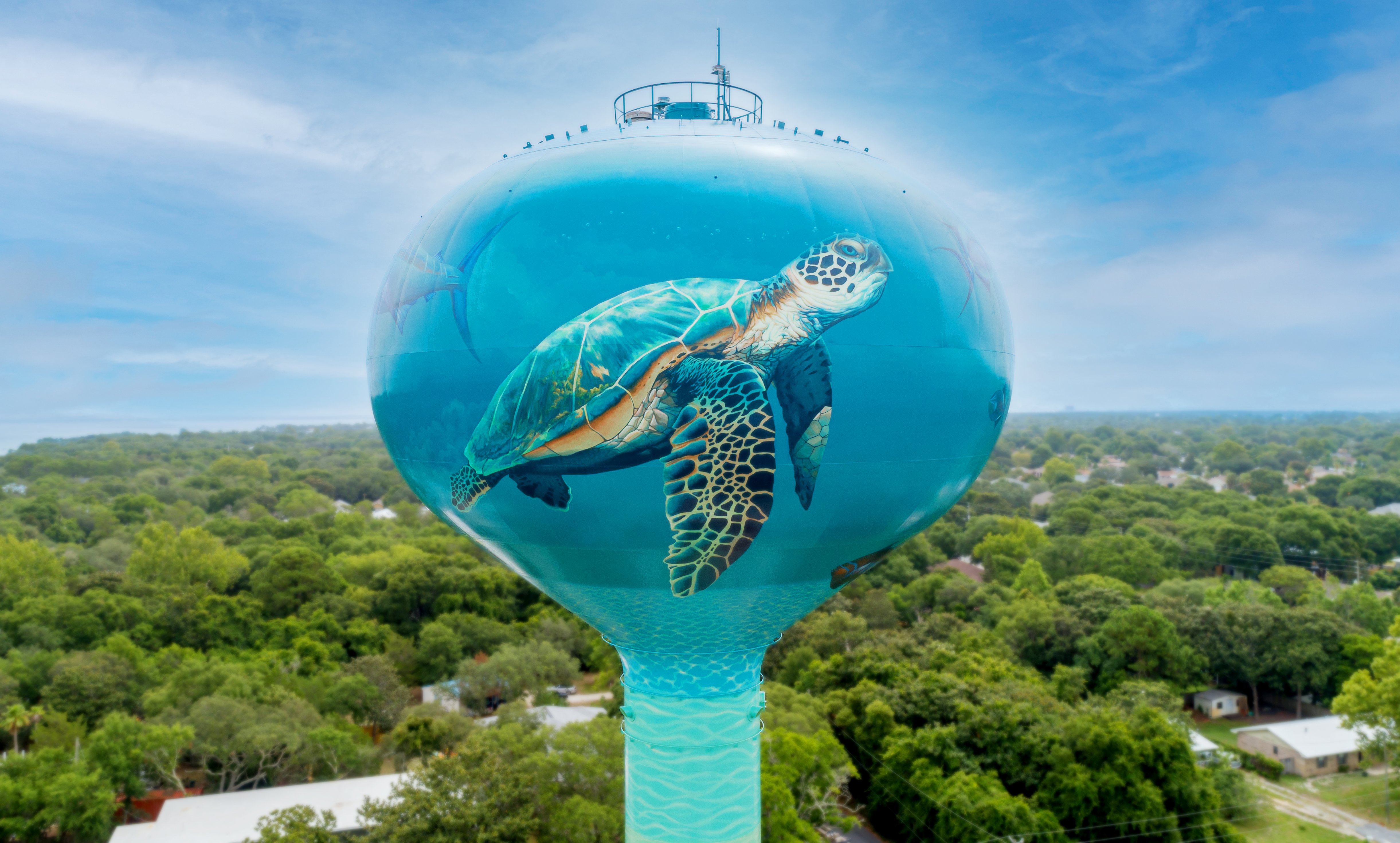 (KANSAS CITY, Mo., Oct. 23, 2020) – A municipal water tank in Destin, Florida, is this year's winner of the Tank of the Year competition sponsored by Tnemec Company, Inc., a leading provider of high-performance coatings. The water tank was selected by a panel of water tank enthusiasts based on criteria such as artistic value, significance of the tank to the community, and challenges encountered during the project.
The winning tank was painted with Tnemec's UV-resistant, long-lasting fluoropolymer finish, Series 700 HydroFlon, which will help the design look great for a long time, even in the hot and humid Florida climate.
"The tank includes a one-of-a-kind seascape mural that now stands high above Destin in an ultra-realistic homage to all the wildlife that call the Gulf of Mexico home," explained Scott Keilbey, Director of Sales – Water Tank Market at Tnemec. "From the beginning, Destin knew its tank would need to be unique, which is why they chose long-time water tank mural artist, Eric Henn, to complete the piece."
Other water tanks among the top 12 finalists for 2020 are in Bossier City, Louisiana; Hot Springs, Arkansas; Muscatine, Iowa; Cumming, Iowa; White Bear Lake, Minnesota; Grafton, Ohio; Hutchinson, Kansas; Troy, Virginia; Jansen, Nebraska; Pain Court, Ontario; and Kansas City, Missouri.
Nearly 300 water tanks were nominated, and more than 23,000 online votes were cast this year from across the U.S. and Canada. Bossier City, Louisiana was the winner of the People's Choice competition with 6,281 votes from members of the public.
"This is the 15th anniversary of the competition, which recognizes municipalities for their aesthetic, creative and innovative uses of Tnemec's high-performance coatings on water storage tank projects," Keilbey added. "This year's finalists represent several different types of water tanks in various shapes and sizes, all of them impressive for one reason or another."
As winner of Tank of the Year, Destin's tank will be featured as the month of January in Tnemec's 2021 water tank calendar. All finalists and nominees will be included in the following months of the calendar.
To see the Tank of the Year announcement video, visit tnemec.com/tankoftheyear. For more detailed information about the winning project and more photography of the tank, see the Destin tank's project profile.


ABOUT TNEMEC (pronounced/tuh-knee-mick)
Established in 1921, Tnemec Company, Inc., manufactures more than 120 architectural and industrial coating products at facilities in Kansas City, Baltimore, Dallas, and Shanghai, China. Headquartered in Kansas City, Mo., Tnemec also operates distribution facilities in Atlanta, Dallas, Indianapolis, New Orleans, Seattle and Compton, Calif. In addition to the company's American network of technical representatives, Tnemec has technical representatives in Canada, the Dominican Republic, Puerto Rico, Trinidad and China. For more information about Tnemec, or any of its products, call +1-816-483-3400; write to 6800 Corporate Drive, Kansas City, Mo., 64120-1372; or visit www.tnemec.com.



E-News
Coating News Direct to Your Inbox
Stay informed about industry news and innovative coating products via email.
Contact Your Rep
Looking for Some Local Coatings Guidance?
Reach out to one of our knowledgable and reliable representatives near you.
Reach Out to Tnemec
Get the Information You Need
Contact us now and request the exact information you're looking for. We look forward to getting you an answer ASAP.