Riverboat Casino Goes All-In with Exterior Renovation
Grand Victoria Makes a Safe Bet Using Tnemec Products for Their Exterior Renovation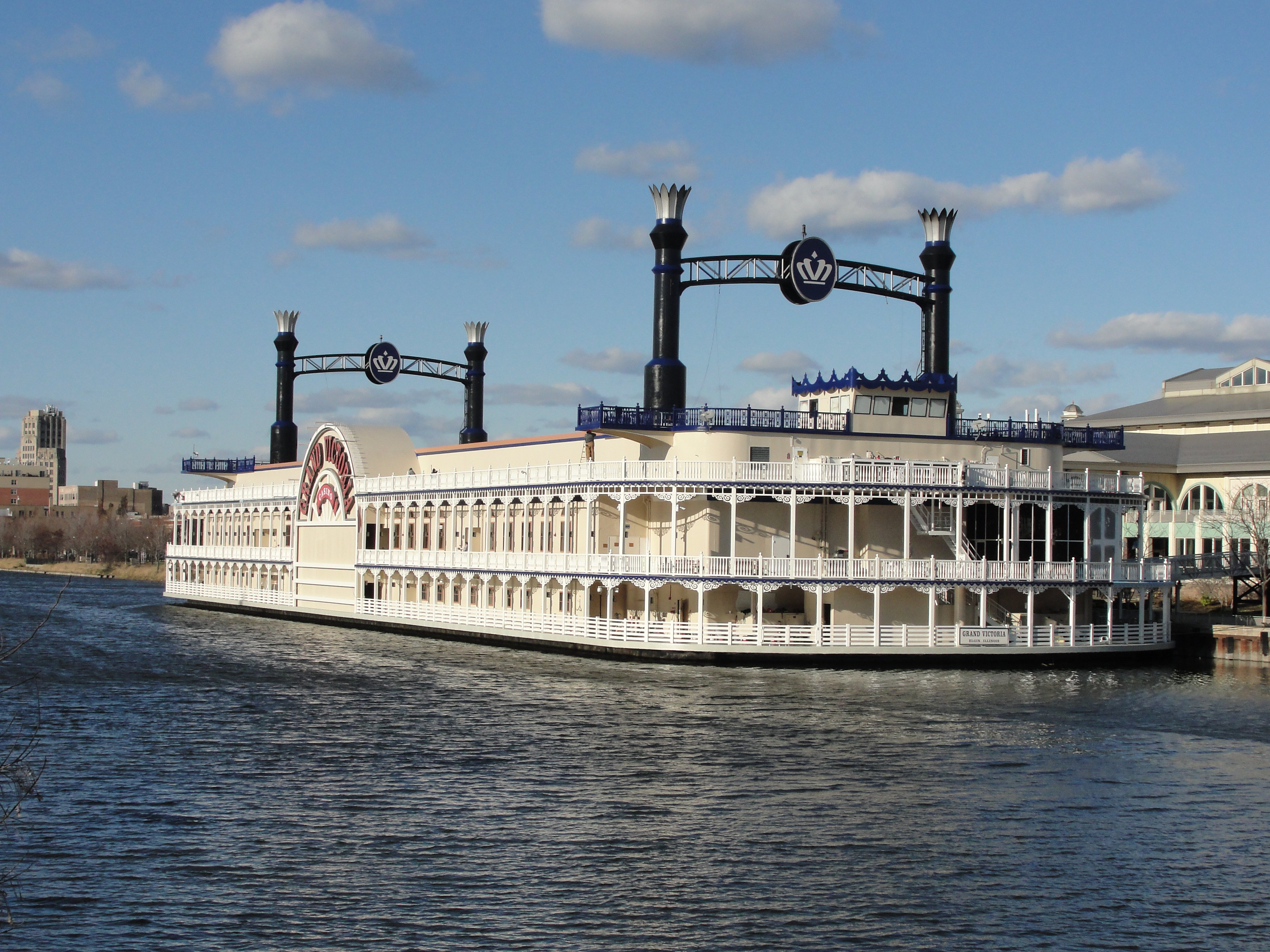 After more than two decades of welcoming the public to its gaming, entertainment and dining experiences, the Grand Victoria Casino (GVC) riverboat in Elgin, Illinois, was overdue for a needed facelift from bow to stern. The kicker was how to do it without interfering with operation of the casino.
The GVC opened in 1995 with a parking garage and a selection of restaurants housed in a land-based pavilion. Live entertainment is also offered at the GVC Show Bar. "Grand Victoria has been the most successful of Illinois' nine casinos," according to the American Casino Guide newsletter. "It has an outstanding location, with a near-monopoly on the affluent northwest suburbs centered in nearby Arlington Heights." For more than a century, Elgin was home to the Elgin National Watch Company's manufacturing complex. The watchmaker remained in Elgin from 1864 to 1964 when operations were moved to another state.
"When Illinois started opening riverboat casinos in the early 1990s, part of the point was to bring new business to old river towns that had been hit by the loss of old industry," the American Casino Guide reported.
In preparation for its 20th Anniversary celebration, GVC initiated a $4 million renovation of the casino's gaming area and pavilion. Among the improvements completed in 2013 were new gaming rooms, carpeting, lighting, wall coverings and furnishings. Improvements to the exterior of the riverboat were made during 2015.
After 20 years in service, the riverboat's exterior was in need of a makeover and its owners wanted a long-lasting coating system that would not require yearly maintenance. The project presented a number of challenges for coating contractor, Tecorp, Inc., and project manager Nick Visvardis.
"We had to do everything without interrupting visitors to the casino," Visvardis explained. "The project required advanced planning and scheduling, as well as excellent cooperation from casino officials, who were very accommodating because they wanted to get the work done in the shortest amount of time. Everybody worked together like a well-oiled machine and the project was completed on time."
The project's six-member coating crew was scheduled during weekdays to avoid any disruption over the weekends when the casino was busiest. "It was important for customers to have access to all levels of the riverboat," Visvardis recalled. "The project took about four months to complete."
GVC's location on the Fox River created another challenge for Visvardis, who emphasized, "We could not have debris or paint falling into the water, so we had to contain everything at the deck level using different containment systems for specific locations."
The steel deck was prepared in accordance with SSPC-SP 6/NACE No. 3 Commercial Blast Cleaning using a self-contained machine that captured all of the old paint and blasting material. Other steel surfaces, including handrails, the stacks and pilot house, were pressure-washed at 5,000 psi and prepared using mechanical hand or power tool cleaning to remove loose rust, scale and old paint. A fully contained scaffolding system was used during work on the large stacks. 
Existing paint exhibited fading, heavy corrosion and poor adhesion. Field testing determined that the buildup of old paint was too thick to be overcoated with a traditional solvent-based tie coat and solvent-based polyurethane and fluoropolymer topcoats. Visvardis worked with Erik Otten, coating consultant with Taylor Coating Sales, in selecting a rust-inhibitive tie coat that could be used with acrylic and solvent-borne finish coats.
"We had to come up with a coating system that would be compatible with the existing coatings while creating less stress on the old paint," Otten noted. "Corrosion resistance and the ability to be used with long-lasting polyurethane and fluoropolymer topcoats were also important considerations."
Several test patches were prepared using a tie-coat of Series 118 Uni-Bond Mastic, a single component, mastic waterborne acrylic coating for use on minimally prepared painted steel. The dry-fall characteristics of the coating reduced overspray issues when it was applied as a tie coat over the prepared painted metal.
"Test patches determined that Series 118 could be topcoated with the long-lasting polyurethanes and fluoropolymer the owner demanded," Otten acknowledged. "Approximately 500 gallons of Series 118 were used for the project."
High-visibility areas received a topcoat of Series 1070V Fluoronar, a low volatile organic compound (VOC) fluoropolymer coating that offers outstanding color and gloss retention. Low-visibility areas received a finish coat of Series 1074 Endura-Shield II, an aliphatic acrylic polyurethane coating that is highly resistant to abrasion, wet conditions and exterior weathering.
Decks received two coats of Series N69 Hi-Build Epoxoline II, an epoxy coating with excellent resistance to abrasion, and a topcoat of Series 290 CRU, an extremely hard urethane coating, which was infused with Series 211 Glass Beads for enhanced slip resistance.
Visvardis credited the project's successful completion to the advanced planning, teamwork, revised coating system and cooperative weather. "With this project, everything came together great," Visvardis added.
Reach Out to Tnemec
Get the Information You Need
Contact us now and request the exact information you're looking for. We look forward to getting you an answer ASAP.
Industries
Coatings for Your Industry
Tnemec provides protective coatings in various industries around the world, from wastewater to architecture.
Contact Your Rep
Looking for Some Local Coatings Guidance?
Reach out to one of our knowledgable and reliable representatives near you.