Rapid-Cure Floor Coating Offers Clear Choice for Quick Return to Service
Accelerate Your Projects with Series 256 ExcellaThane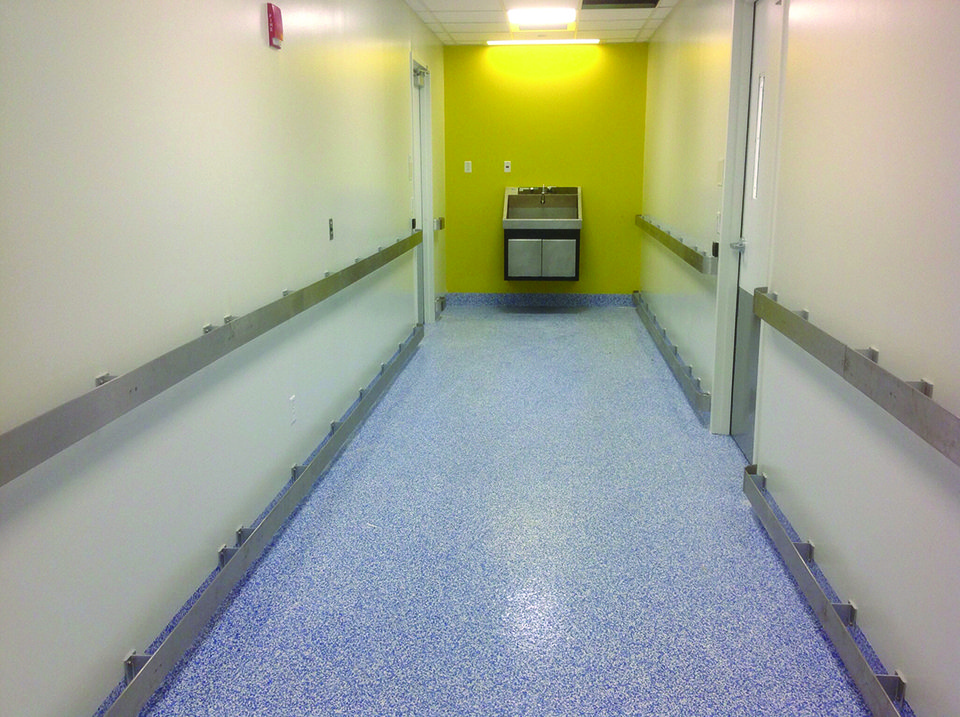 Tnemec Company, Inc., a leading manufacturer of high-performance protective coatings, has introduced an extremely fast-curing, multi-purpose addition to its StrataShield line of resinous floor and wall products. Series 256 ExcellaThane, a modified aliphatic polyaspartic, provides a return-to-service time of three hours for light traffic and six hours for full service, as well as low-temperature cure capabilities, according to Joe Schmit, director of the StrataShield flooring line.
"Series 256 offers exceptional versatility," Schmit explained. "It can be used as a thin film or for building aggregate, quartz, or decorative flake-filled floor topping systems. It also provides excellent resistance to yellowing, which means the floor will retain its aesthetics better than a traditional epoxy floor system. And it offers excellent gloss and color retention as a clear coat, or when field tinted with standard StrataShield colors or custom colors."
As a 100 percent solids polyaspartic, Series 256 is low in volatile organic compounds (VOCs) and exhibits low odor, allowing use of the coating near occupied spaces. This characteristic makes Series 256 a viable alternative to methyl methacrylate (MMA) floor coating products that exhibit a distinctively strong odor. 
"Series 256 also has demonstrated stronger resistance to certain chemicals which can be an advantage in areas where frequent cleaning will occur," noted Schmit. "When combined to create a full resinous flooring system, Series 256 also protects against impact and abrasion." 
At a commercial kitchen in Raleigh, North Carolina, Series 256 ExcellaThane was used to build a decorative quartz aggregate floor topping system that limited out-of-service downtime while allowing ease of cleaning. In less than two hours after topcoating, the slip-resistant flooring system was cured and ready for light traffic. 
Pharmaceutical companies are also using Series 256 for vivarium and biocontainment areas that regularly encounter aggressive cleaning solutions. At Jackson Laboratories in Farmington, Connecticut, Series 256 provided a fast turn-around time and extended color and gloss retention as a topcoat, which was applied over a decorative flake flooring system built with a polyurethane modified cement primer and epoxy base coat. 
"Tnemec's line of StrataShield floor and wall coatings can be combined for a variety of different systems for almost any environment," Schmit added. "Whenever a project calls for a fast-cure, high-performance flooring system, Series 256 will be a reliable option for the specifier and applicator."
ABOUT TNEMEC
Established in 1921, Tnemec manufactures more than 120 architectural and industrial coating products at facilities in Kansas City and Baltimore. Headquartered in Kansas City, Tnemec operates distribution facilities in Atlanta, Dallas, Indianapolis, New Orleans, Seattle and Compton, Calif. In addition to the company's American network of technical representatives, Tnemec has technical representatives in Canada, the Dominican Republic, Puerto Rico and Trinidad. For more information about Tnemec Company, Inc., or any of its products, call 800-863-6321; write to 6800 Corporate Drive, Kansas City, Mo., 64120-1372; or visit www.tnemec.com.
Reach Out to Tnemec
Get the Information You Need
Contact us now and request the exact information you're looking for. We look forward to getting you an answer ASAP.
Industries
Coatings for Your Industry
Tnemec provides protective coatings in various industries around the world, from wastewater to architecture.
Contact Your Rep
Looking for Some Local Coatings Guidance?
Reach out to one of our knowledgable and reliable representatives near you.