Handling Extreme Conditions: Coatings to Fight the Freeze
Tnemec coatings play wingman for two aircraft facilities in need of cold-weather solutions.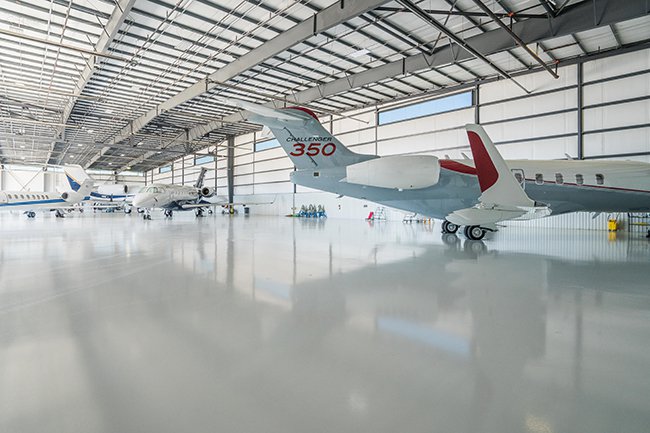 When it comes to aviation, flying and plane storage are especially challenging in winter weather. From handling regular plane maintenance to making sure that a plane is properly deiced so that it can fly without ice buildup on the wings or tail, the facilities that house and maintain planes need to be able to handle everything including harsh climate, aggressive chemicals and impacts that come with the territory. To protect the planes, aviation facilities need to be guarded against the wintry climates they face.
Jet Munitions Facility in Fairbanks
110 miles south of the Arctic Circle near Fairbanks, Alaska, lies Eielson Air Force Base. It has seen enormous growth the past three years, with huge amounts of military funding going into the creation of a secure site for a fleet of F-35 fighter jets. The F-35s form part of a larger strategy to bring the Pacific Air Forces back to a state of full combat readiness. The site was chosen for its strategic importance: its close proximity to the Arctic and ease in reaching most Pacific destinations made it a clear choice for positioning the elite jets.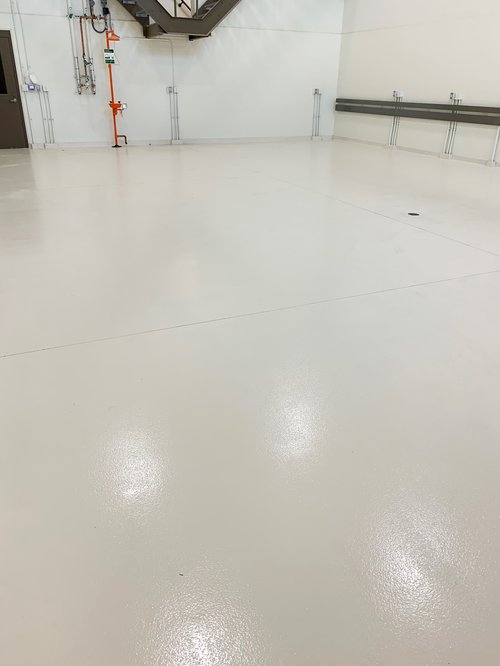 However, the central Alaskan location comes with significant challenges, mostly due to the extreme cold. The temperature in the winter can drop below -50°F, and the area receives less than four hours of sunlight in the weeks surrounding the Winter Solstice. Not only would the F-35s themselves need to be readied for that kind of environment, new construction was needed to ensure that the required space was able to fit the fleet and support year-round needs. This included insulated, heated space for maintenance during the cold, dark winter months.
The facility needed a coatings system for the hangar flooring that could handle the very worst. The challenges were manifold: The weight of the airplanes and the various parts that would need to be installed and fixed, the jet fuel and other chemicals that could easily spill on the floor, the potential impact of any parts that fell on accident, the foot traffic of the mechanics and pilots themselves – not to mention the potential for thermal shock near the roll-up doors in the -40°F air.
Tnemec representative, Rick Gilbreath, helped designate a coatings system that could take on everything the jets and the environment could throw at it. Rejecting the initial specification for an epoxy trowel floor, Gilbreath and the team decided instead to start with Series 245 Ultra-Tread S applied 1/4" thickness. Series 245 is a polyurethane modified concrete ready for abusive service areas. It's a low odor, slurry applied, flowable mortar floor topping that can outperform most polymer flooring, acid brick, quarry tile and more, providing protection against thermal shock, aggressive cleaning, and everything else inherent to a jet hangar environment.
An intermediate coat of Series 222 Deco-Tread, a modified polyamine epoxy, was applied to a thickness of 20 mils DFT. Applied in this case as a grout coat, Series 222 has good flow and self-leveling characteristics important for evening out surfaces that have lots of traffic. It also helps protect concrete from impacts and abrasions.
Finally, a finishing coat of Series 248 EverThane was applied to a thickness of 2-3 mils. Series 248 is an aliphatic moisture-cured urethane that dries extremely hard, and has excellent resistance to abrasion, corrosive fumes and chemical contact, giving it the ability to survive jet fuel and still shine on. Series 248 is an environmentally friendly choice, too, as it has passed the California Department of Public Health CDPH/EHLB/Standard Method Version 1.1, 2010 emissions testing and meets qualifications of LEED v4.
The combination of coatings on the facility floor at the jet munitions facility in Fairbanks should stand the test of time, and stay strong for the F-35s it supports.
GTAA Deicing Facility Tanks in Toronto
While the Fairbanks flooring coatings system is designed for the coldest of winter weather, that's not the only part of an airport's winter planning that Tnemec coatings can handle. Tnemec coatings were also chosen for the Deicing Facility Tanks at the Toronto Pearson International Airport when their tanks posed a bigger challenge than most coatings could handle.
In fact, all prior systems used over the last 20 years had prematurely failed across eight tanks. System failures caused huge problems. Concrete deterioration was a frequent culprit, which created additional costs for filtering and recycling of deicing fluid. In an area as prone to heavy snow as Toronto – the pre-pandemic five-year average of deicing sprays is 15,500 per season – losing deicing capabilities can mean air traffic being grounded and delays across the board. A working, reliable deicing system is a major priority.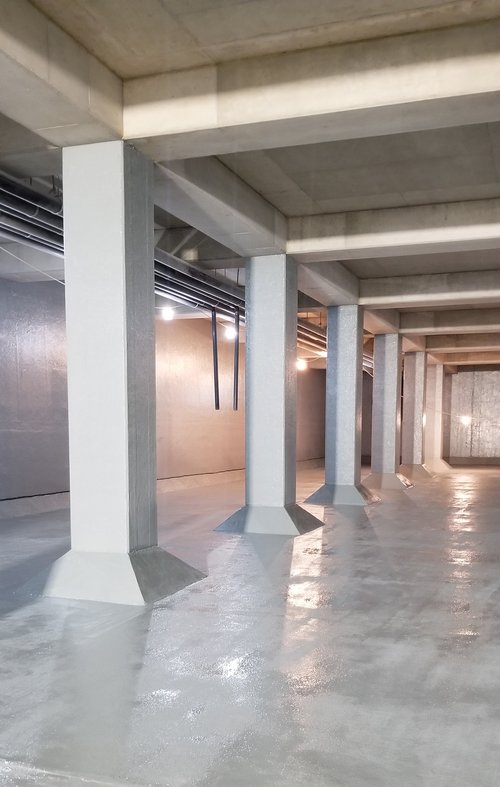 Toronto Pearson recently upgraded its facility so that all deicing takes place at the Centralized Deicing Facility. Designed to be environmentally friendly, all planes are deiced in the same area. An underground facility then captures and collects all fluids from the deicing process so that glycol is prevented from penetrating the soil below the facility's surface.
The coatings system developed for the facility takes into account everything from the high traffic nature of the operations to the extreme cold that the system must function in, to the different needs of various parts of the facility itself. Local coatings agency, Avid Protective Products LTD, helped the owners designate two main coatings systems for the deicing facility tanks.
The walls and columns were coated with Series 237SC ChemBloc, a mat-reinforced, thick-film modified polyamine epoxy system. Series 237SC is most often applied to primary and secondary containment structures and is extremely good at protecting concrete from abrasion, impact, and chemical degradation. The topcoat used here was Series 280 Tneme-Glaze, a thin-film modified polyamine epoxy, known for hardening into a glaze-like, stain- and abrasion-resistant coating that handles pressurized hot water and detergent cleaning easily. All vertical surfaces were protected with this system at a total thickness of 80-125 mils DFT.
The curbing for the deicing facility follows the same system of Series 237SC and Series 280, except that Series 237SC was loaded with aggregate to build thickness and strength in place of the fiberglass mat.
The floors were coated with a special basecoat, added for moisture control properties as backside moisture vapor transmission (MVT) was a concern. Series 241 Ultra-Tread MVT was applied first, a polyurethane modified concrete and slurry-applied base that can withstand MVT of up to 20 lbs (per ASTM F 1869) and extremely high relative humidity. The floors then received a broadcast coat of Series 237 Power-Tread and a finish coat of Series 280.
This new deicing system is extremely efficient. With 180 dedicated employees and 46 separate deicing units, planes are able to go through the entire deicing system and hit the runway in under 14 minutes. It's impressively quick, especially given that the under-14-minute time happens during heavy snow, ice, frost, and wind. The airport can handle deicing up to 500 planes per day.
Challenging conditions and critical operations are a tough combination. The good news is that even when those two things are put together, there are coatings that can meet the challenge and look good doing it.




Contact Your Rep
Looking for Some Local Coatings Guidance?
Reach out to one of our knowledgable and reliable representatives near you.
Reach Out to Tnemec
Get the Information You Need
Contact us now and request the exact information you're looking for. We look forward to getting you an answer ASAP.
How to Purchase
Ready to Order Tnemec?
We're ready to help. Click below to learn more about our purchasing process.