The Coating Must Go On: Surface Tolerant Epoxies in Water Treatment Plants
Two water treatment plants utilize innovative epoxy coatings while keeping their facilities in service.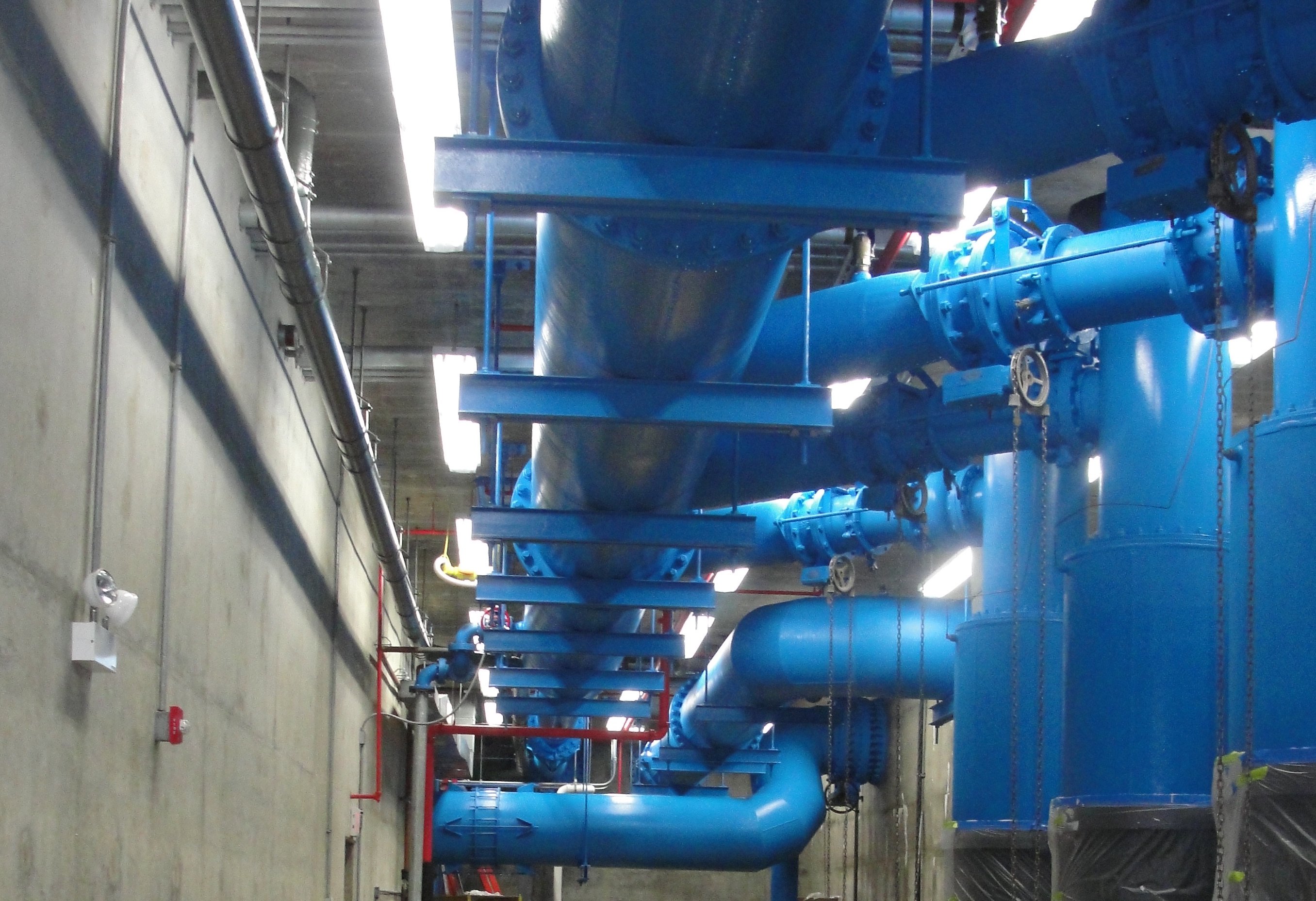 Water treatment plants can be difficult to maintain. A clash of temperatures, fluids, chemicals, and fumes can cause a number of different maintenance headaches. Rusting, discolored, degrading pipes aren't only an eyesore, if not taken care of quickly, they could create even bigger issues, especially corrosion. In these environments, it's essential to use coatings that can withstand the conditions and prevent rust, abrasion, and other problems for as long as possible, while helping to keep these invaluable facilities in operation.
Surface tolerant epoxies are designed specifically for these environments. They can handle application on a wide variety of surfaces, like concrete with aging coatings and hand-prepared rusty steel, as well as surfaces where there's no possibility of sand blasting or deep cleaning.
Some surface tolerant epoxy coatings, like Tnemec's line of ProTuff products, are also ideal for damp conditions, like constantly sweating pipes. Tnemec has provided ProTuff epoxies to a number of projects, including two in which continuous operations were necessary, creating a difficult application process.
Complications from Corrosion
Sometimes a project starts out small, only to become a much larger job when it gets moving. This was the case at the West Reservoir in Glenview, Illinois. The project team knew there was a mildew problem on some pipe foam insulation that needed to be fixed. Unfortunately, the mildew problem was such that the insulation couldn't be saved and, even worse, the molding insulation hid corroding pipes covered in coatings that were in extremely poor condition. In some areas, coatings were cracked, and in others, rust and mold were peeking through where chunks of paint had fallen off altogether.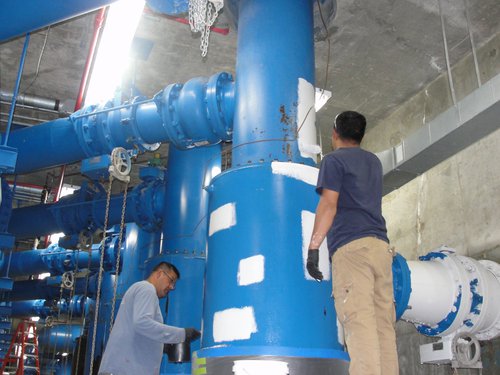 An even bigger complication: the plant itself had to remain in operation while all repairs and recoating were completed. This meant the pipes would be damp throughout the repair and recoating process. The timeline and budget for the project came with their own constraints as well. Simpler options like blasting the pipes and recoating them with an epoxy wouldn't be possible.
ATP Enterprise Group was brought in to handle the remediation project. They turned to coatings expert Erik Otten with Taylor Coating Sales to provide a coatings system that could not only prevent corrosion but could also be applied while the pipes were sweating. Fortunately, Tnemec had the products ready to go.
"We had just recently introduced these ProTuff products to our customers and this was the ideal project to apply them," stated Otten.
The surface first needed to be cleaned and primed. Surface preparation for bare or previous painted steel requires a light cleaning through the use of low-pressure water, sprayed between 3,500 and 5,000 psi using a zero-degree rotating nozzle. If old coatings and loose rust are still present then hand and power tools can be brought in to finish the cleaning process. All visible contaminants - loose mill scale, loose rust and other products of corrosion, and loose paint - must be removed before priming.
Once the team finished cleaning, the applicators spot primed using Tnemec's Series 132 ProTuff Mastic. Following spot priming, a full coat of Series 132 was applied by brush and roller at 4.0-6.0 mils dry film thickness (DFT).
Series 132 is a versatile, high-build, surface tolerant epoxy mastic which was designed for situations like this; it's able to work on tightly adhered light corrosion and marginally prepared surfaces as well as previously coated steel. Series 132 also can also be applied at low temperatures – down to 35°F and curing all the way down to 20°F – over dew point conditions, and on damp surfaces – a crucial characteristic in remediation projects like this where the pipes are damp throughout to application and drying process.
The finish coating for the project was Series 138 ProTuff. Series 138 is a high-build, semi-gloss, surface tolerant epoxy mastic coating designed to stand up to harsh conditions, such as those found in water treatment plants. Like Series 132, this finish coating can be applied on light corrosion and marginally prepared steel, and can handle being applied in colder or over dew point conditions. Additionally, the phenalkamide epoxy technology unique to Series 138 resists color shift.
"We used a total of 70 gallons of the coatings during the project," explained Otten. "What's really unique about this project is that the coatings were rolled onto the sweating pipes in a method that allowed for water to be displaced, creating a monolithic film in direct contact with the surface substrate."
The final product is a newly repaired, bright blue set of pipes, coated evenly despite the ever-accumulating puddles of water on the floor. The coatings shine uniformly across the equipment, with no way to tell that they'd been renovated while still fully operating.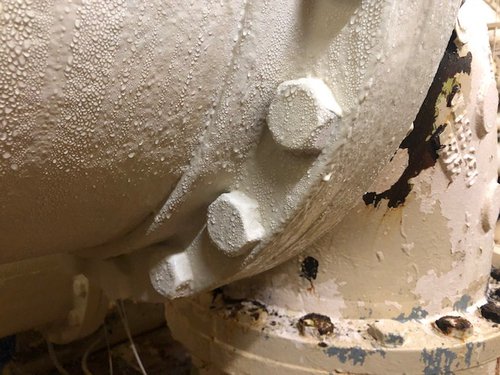 Condensation During Repainting
The team at the Anderson County Water Authority in Clinton, Tennessee, knew it was time for a repair project when they discovered rusting pipes. Like the West Reservoir, the pipes had constant moisture – the result of the very cold source water from deep in the nearby Clinch River – which led to sweating and corrosion. Along with the already present moisture, teams knew they had to keep the plant operating during the reconstruction, creating the challenge of finding coatings fit for the conditions.
Mark Goulet, local Tnemec representative with NexGen Coating Resources was able to provide a solution to their problems, also relying on Tnemec ProTuff products to get the job done.
"These products, like other Tnemec coatings for water treatment plants, are designed to protect our clients and their infrastructure," stated Goulet. "Water treatment plants come to us for solutions and with products like these surface tolerant epoxy coatings, we can usually provide a great benefit."
Preparation of the pipes involved pressure washing, followed by power tool cleaning until the pipes were free of all loose rust, annealing oxide, mold coating or any other loose foreign substances. The surface was then vacuumed or brushed off to remove contaminants.
After cleaning, Tnemec Series 133 ProTuff Aluminum was applied at 4.0 to 8.0 mils DFT. This high-build, aluminum-filled epoxy mastic is the preferred surface tolerant coating to hold back active corrosion and works beautifully as a basecoat for epoxy finishes.
Then, just as in the West Reservoir project, the Anderson County pipes were finished with Series 138 ProTuff, brushed and rolled on the damp pipes to a thickness of 6.0 to 8.0 mils DFT.
The coatings system for the rusting pipes was initially planned as a temporary measure to get the pipes through the busy season, in hopes that they could then find time to take them offline, sandblast and paint. However, the results were excellent. The ease of coating, the minimal required surface preparation, and the fact that the coatings could be applied on damp and actively sweating surfaces have been a huge benefit, and the entire plant may soon be recoated with the same system.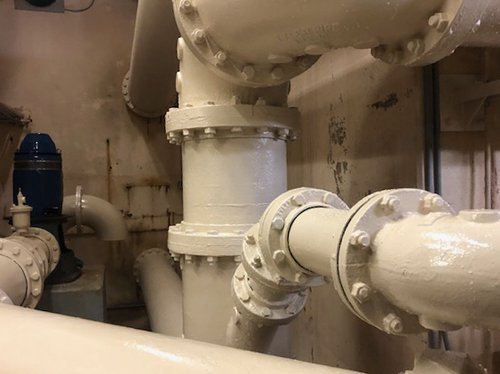 "Not taking the plant offline, yet still being able to perform necessary maintenance, is a huge financial and logistical benefit," added Goulet.
There are many benefits to using surface tolerant epoxies like the ProTuff coatings system. The cost savings of keeping a facility online while protecting needed infrastructure is huge. A lot of flexibility in the conditions where coatings can be applied means that there are fewer logistical challenges to cause headaches or drag out the project's time to completion. And with lower surface preparation needs, there are reduced labor costs. When the environment is uncompromising, surface tolerant epoxies are often an excellent way to go.


E-News
Coating News Direct to Your Inbox
Stay informed about industry news and innovative coating products via email.
Industries
Coatings for Your Industry
Tnemec provides protective coatings in various industries around the world, from wastewater to architecture.
Contact Your Rep
Looking for Some Local Coatings Guidance?
Reach out to one of our knowledgable and reliable representatives near you.