Marking 50 Years of Coatings Innovation in the Water Market
Tnemec and AWWA celebrate the half-century mark together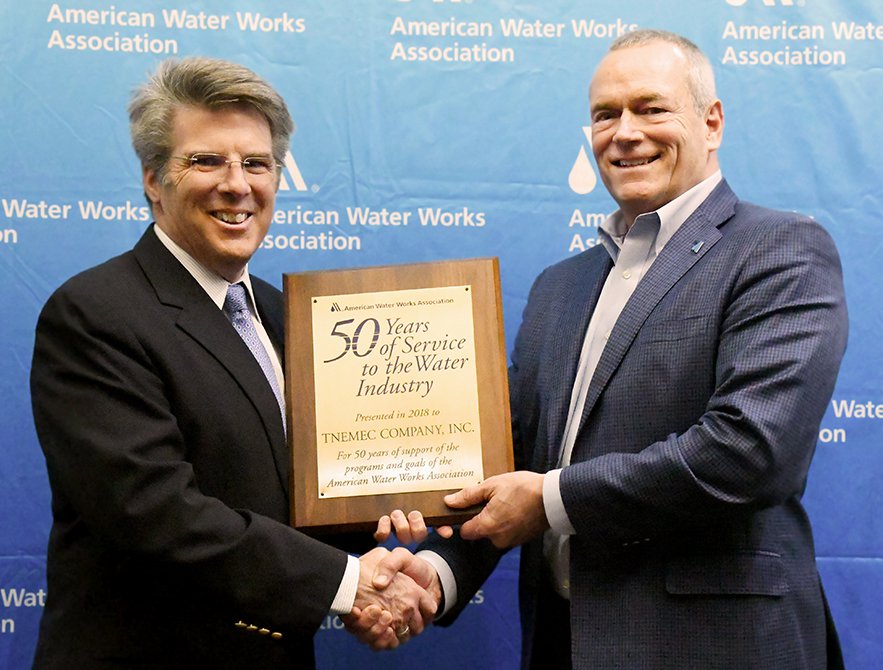 (KANSAS CITY, Mo., May 14, 2019) – Tnemec Company, Inc., an industry-leading manufacturer of industrial and architectural protective coatings, has been recognized by the American Water Works Association (AWWA) for a half-century of service and support to the water and wastewater industries. The award is presented to long-standing members for their valuable support of AWWA programs and goals, according to Randy Moore, Director of Sales-Agency Development and Industry Affairs and Vice President of the AWWA Board of Directors.
"For decades, Tnemec has provided volunteers to assist in the development of AWWA standards and the production of the Association's Manuals of Practices," Moore explained. "Tnemec coatings specialist Mike Bauer had a long history of service as chair of the D102 committee, which is the standard for coatings used on the interior and exterior of water tanks."
Bauer chaired the D102 committee for several years during his 35-year career with Tnemec. He also served on the NSF/ANSI Standard 61 drinking water additives joint committee and authored numerous technical articles about coating technologies used in the water and wastewater sectors.
Since joining AWWA in 1982, Moore has served on a number of standards committees and is currently an AWWA Vice President, Service Provider Director-at-Large and Co-Chair of the Innovation Initiative. As a frequent contributor to the Association's magazine for operators, Opflow, and a regular moderator of technical webinars, Moore is nationally recognized as an innovation industry thought leader in the water sector.
"Technical innovation has been a trademark of Tnemec coatings and linings, which are specially formulated for water and wastewater industries, and evaluated under real-world conditions," Moore emphasized. "Tnemec pioneered the development of the overcoat delamination risk factor analysis that is a standard practice today in the water tank industry."
Tnemec also helped in the development of the Severe Wastewater Analysis Testing (S.W.A.T.) apparatus used to evaluate coating systems in highly corrosive wastewater conditions. "Using this technology, municipal sewer authorities and specifying engineers can rapidly evaluate the performance of protective coatings and linings for use in severe wastewater headspace environments," Moore explained.
From a versatile epoxy introduced in the mid-'60s, Tnemec has expanded its product portfolio with specialized coating technologies to meet the constantly changing conditions that exist in today's water and wastewater infrastructure. In 1997, Tnemec pioneered the first use of organic zinc-rich primers in the interior of steel potable water tanks. In the early 2000s, Tnemec introduced fluoropolymer technology for the exterior of water storage tanks. Today, the manufacturer offers the most comprehensive portfolio of high-performance coatings specifically designed for the unique challenges of the water and wastewater markets.
"For more than 50 years, Tnemec's culture of innovation has led to the development of high-performance coating technologies backed by the most experienced coatings consultants in the industry." Moore added. "From corrosion-resistant lining systems to insulating coatings for condensation control and thermal protection, every product in Tnemec's lineup is designed to help its customers respond to the changing needs of their industries."

ABOUT TNEMEC (pronounced/tuh-knee-mick)
Established in 1921, Tnemec Company, Inc., manufactures more than 120 architectural and industrial coating products at facilities in Kansas City, Baltimore, Dallas, and Shanghai, China. Headquartered in Kansas City, Mo., Tnemec also operates distribution facilities in Atlanta, Dallas, Indianapolis, New Orleans, Seattle and Compton, Calif. In addition to the company's American network of technical representatives, Tnemec has technical representatives in Canada, the Dominican Republic, Puerto Rico, Trinidad and China. For more information about Tnemec, or any of its products, call +1-816-483-3400; write to 6800 Corporate Drive, Kansas City, Mo., 64120-1372; or visit www.tnemec.com.


---
E-News
Coating News Direct to Your Inbox
Stay informed about industry news and innovative coating products via email.
How to Purchase
Ready to Order Tnemec?
We're ready to help. Click below to learn more about our purchasing process.
Industries
Coatings for Your Industry
Tnemec provides protective coatings in various industries around the world, from wastewater to architecture.