Introducing LavaCrete Polymer Concretes for Durable Chemical Protection
Tnemec releases three chemical-resistant polymer concretes for use on new or existing surfaces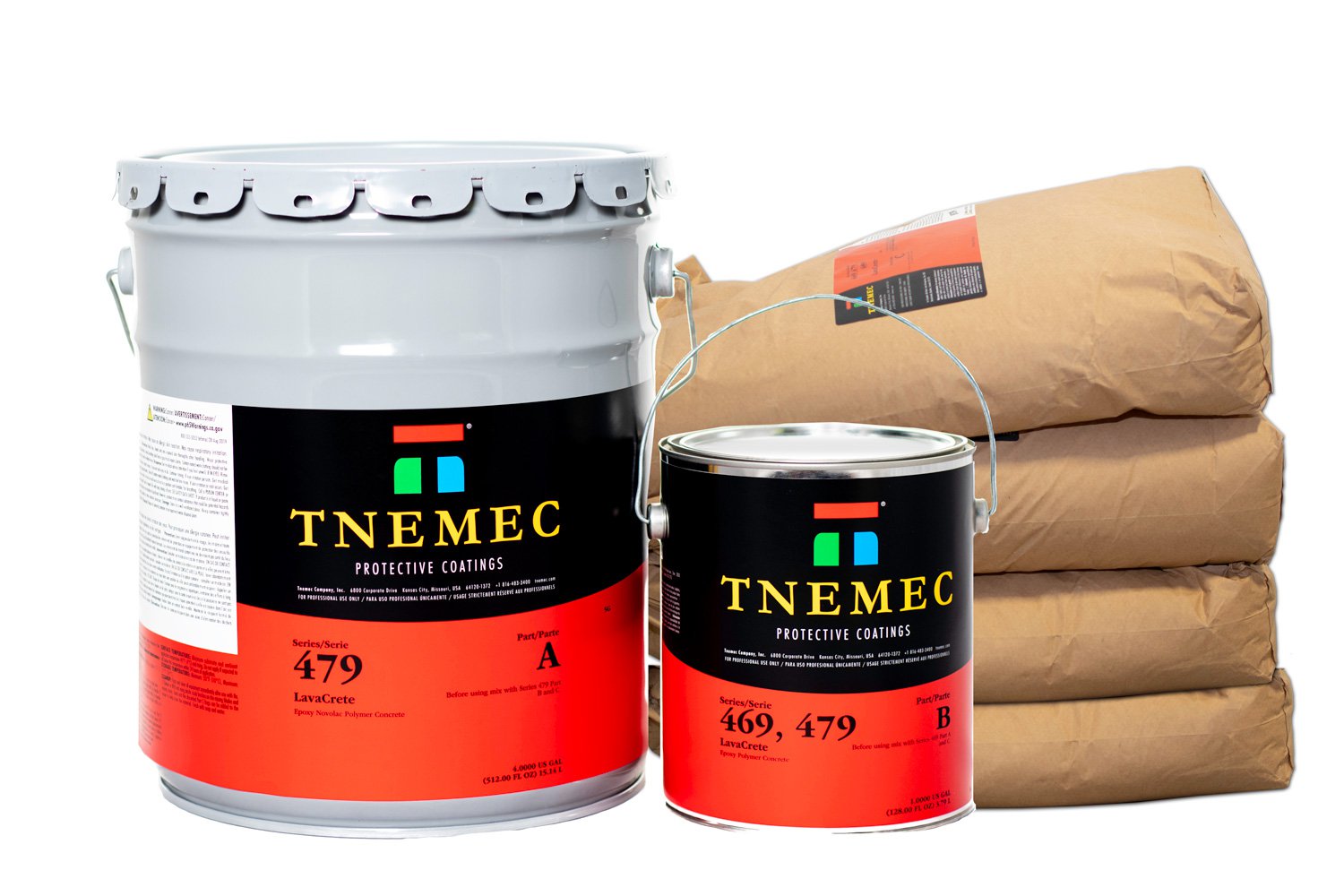 (KANSAS CITY, Mo., Nov 19, 2019) – Tnemec Company, Inc. has introduced three chemical-resistant polymer concretes for use on new or existing surfaces. The LavaCrete series of high-performance polymer concretes can be applied and returned to service the same or next day and can cure at temperatures down to 40 degrees F, according to Dan O'Toole, Director of Sales-Food, Beverage and Specialty Markets.
"LavaCrete products are all about speed of installation and chemical resistance," O'Toole explained. "These products are ideal for repairing heavily deteriorated concrete surfaces found in facilities where acid drips are common, such as pickling and plating plants, and for casting trenches, sumps, pads or secondary containment structures."
Specific LavaCrete polymer concrete products include:
Series 469 non-shrinking, high-performance epoxy-based polymer concrete for refurbishment in low-temperature conditions where advanced corrosion resistance is required.

Series 479 non-shrinking, premium grade novolac epoxy-based polymer concrete for added chemical resistance and fast return to service in regular and low-temperature conditions.

Series 489 premium grade vinyl-ester-based polymer concrete for pump and pad rebuilds in areas of strong acid and caustics.
"Because of their quick cure times, these products are often used in food processing plants where return-to-service time is measured in hours," O'Toole added. "LavaCrete is also an industry standard for vibration-dampening, corrosion-resistant grouting material under the baseplates of motors and pumps."
LavaCrete polymer concretes provide three times the bond of normal concrete when applied over surfaces prepared in accordance with SSPC-SP13/NACE 6 Surface Preparation of Concrete and ICRI Technical Guidelines. LavaCrete resists thermal shock and shrinkage and can be installed up to 10 inches in a single pour.
"With LavaCrete, corrosion protection is provided throughout the entire pour, regardless of its thickness," O'Toole added. "Once the polymer concrete is in place, no additional coatings are required and return to service is usually within hours."
The LavaCrete brand of high-performance polymer concretes were acquired by Tnemec under an agreement with St. Louis-based ProPolymer Coatings. For more information on ProPolymer coatings, please email inquiries to propolymer@tnemec.com or contact your local Tnemec sales representative.


ABOUT TNEMEC (pronounced/tuh-knee-mick)
Established in 1921, Tnemec Company, Inc., manufactures more than 120 architectural and industrial coating products at facilities in Kansas City, Baltimore, Dallas, and Shanghai, China. Headquartered in Kansas City, Mo., Tnemec also operates distribution facilities in Atlanta, Dallas, Indianapolis, New Orleans, Seattle and Compton, Calif. In addition to the company's American network of technical representatives, Tnemec has technical representatives in Canada, the Dominican Republic, Puerto Rico, Trinidad and China. For more information about Tnemec, or any of its products, call +1-816-483-3400; write to 6800 Corporate Drive, Kansas City, Mo., 64120-1372; or visit www.tnemec.com.


E-News
Coating News Direct to Your Inbox
Stay informed about industry news and innovative coating products via email.
Product Documents
Looking for Application or Specification Help?
Download our helpful application guides, construction detail guides or system guides.
How to Purchase
Ready to Order Tnemec?
We're ready to help. Click below to learn more about our purchasing process.