Insulating Coating Represents a Thermal Breakthrough
Aerolon Technology Provides Barricade for Thermal Bridging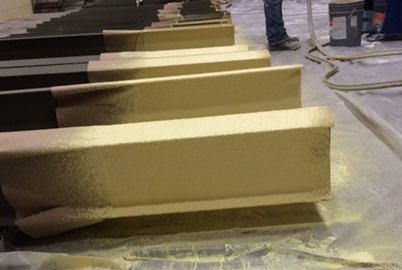 The opening of the new One Canal luxury apartment and condo development in Boston, Massachusetts, in early 2016 will hold special significance for the construction industry. The 12-story building is among the first architectural applications in the nation to use Tnemec's Series 971 Aerolon Acrylic insulation coating system as a thermal break. The fluid-applied, high-build coating contains aerogel, a highly efficient insulative particle.
Located in Boston's historic Bulfinch Triangle, the $190-million One Canal development consists of 320 units of housing, including 21 onsite affordable units, 21,000 square feet of retail space, and a parking garage. Its amenities include a rooftop swimming pool and sun deck, a state-of-the-art fitness center with spin and yoga studios, and outdoor courtyard with a dog washing station.
"Project specifications for One Canal originally called for 2,200 thermal break pads as a solution for thermal bridging," recalled coating consultant Michael Woessner of Righter Group, Inc. "After comparing the cost of that approach with using Tnemec's fluid-applied insulation coating, the designer saw potential for much lower labor and material costs."
Aerolon insulation coating was field-applied over a prime coat of Series 394 PerimePrime, a specially formulated, one-component micaceous iron oxide and zinc-filled aromatic polyurethane coating. A single coat of Aerolon was spray-applied at 60 mils dry film thickness (DFT) on balconies, while two coats totaling 120 mils DFT were spray-applied on steel decking, and 100 mils were sprayed underneath pavers on concrete balconies.
"The thermal properties of Aerolon reduce condensation caused by the difference in the temperature between the two sides of the wall space by slowing the transfer of heat and cold between the interior and exterior of the building," Woessner explained. "The condensation on structural steel penetrating a wall cavity can lead to corrosion, air quality issues, and mold, which are major concerns in architectural design."
Applied in the shop or in the field, the use of Aerolon as a thermal break represents a new innovation for the construction industry. It can be used on a variety of surfaces, including metal decking, concrete slab edges, metal studs, canopies, and window frame systems. A water-based formulation, Aerolon conforms to regulatory requirements for low volatile organic compound (VOC) coatings.
"It is a very simple solution that provides condensation control, is easy to apply, and extremely cost effective compared to thermal pads that require a physical break in the steel beam," Woessner emphasized. "With a simple application of Aerolon, project costs associated with structural design and special fabrication details are avoided."
Tnemec has experienced a growing interest in Aerolon among leading architectural and engineering firms throughout the United States and Canada on projects as diverse as commercial office towers, residential high-rise buildings, and airport terminals to art museums and sports training facilities.
At the new $85-million TripAdvisor office building in Needham, Massachusetts, exterior designer Elkus Manfredi Architects specified Aerolon to be shop-applied over a prime coat of Series 394 PerimePrime on structural steel. The project's fabricator spray-applied a single coat of Aerolon at 50-60 mils DFT along the portion of structural steel members that penetrate the building envelope or approximately the width of the wall space, plus 12 to 18 inches inboard and 18 inches outboard.
After steel members were coated by the fabricator, they were transferred to the construction site where they were exposed to weather conditions prior to assembly. "Aerolon can be exposed to heavy rain or snow conditions without it affecting its performance," Woessner verified. 
The six-story TripAdvisor building scheduled for completion later this year is designed to achieve Leadership in Energy and Environmental Design (LEED) Gold certification.
Woessner reported that architects and engineers are impressed with the amount of testing data available on Aerolon, including ASTM E84-01 Standard Test Method for Surface Burning, ASTM G85 Standard Practice for Modified Salt Spray, ASTM D870 Standard Practice for Testing Water Resistance of Coatings, and more.
Of special importance to architects is data showing that Aerolon has passed ASTM E84-01 testing and is Class A fire rated under the National Fire Protection Association (NFPA) publication NFPA 101 Life Safety Code. Architects and fabricators also appreciate the ease of application and savings Aerolon offers compared to thermal break pad assemblies, which require a physical break in the steel member.
"Thermal break pads are assembled between companion plates that are bolted together," Woessner noted. "Each physical break must be designed by the architect, engineered to ensure the design can support the load, then fabricated and assembled, which is a time-consuming and costly process. In addition, you have the cost of the thermal break pads themselves."
Woessner cited a thermal test study that compared the performance of a structural thermal break with a comparable steel member using Aerolon as a thermal break. The study was conducted by Cabot Corporation.
Using a special apparatus that simulated steel beams in the winter, the test produced condensation eight inches up the warm side of the beam designed with a structural thermal break pad, while a beam with Aerolon applied as a thermal break had no visible condensation.
"Thermal modeling by Morrison Hershfield engineering consultants has also confirmed the effectiveness of Aerolon as a thermal break in controlling the condensation effect," Woessner added.
"As a thermal break, Aerolon offers a simpler and more cost-effective method of condensation control than other materials in the market," Woessner stated. "Architects can design and construct the building the way they want and apply Aerolon Acrylic on the areas it's needed."
Reach Out to Tnemec
Get the Information You Need
Contact us now and request the exact information you're looking for. We look forward to getting you an answer ASAP.
Industries
Coatings for Your Industry
Tnemec provides protective coatings in various industries around the world, from wastewater to architecture.
Contact Your Rep
Looking for Some Local Coatings Guidance?
Reach out to one of our knowledgable and reliable representatives near you.