Bypassing Thermal Bridging to Reduce Energy Usage and Condensation
Architectural structures take a 'break' from thermal bridging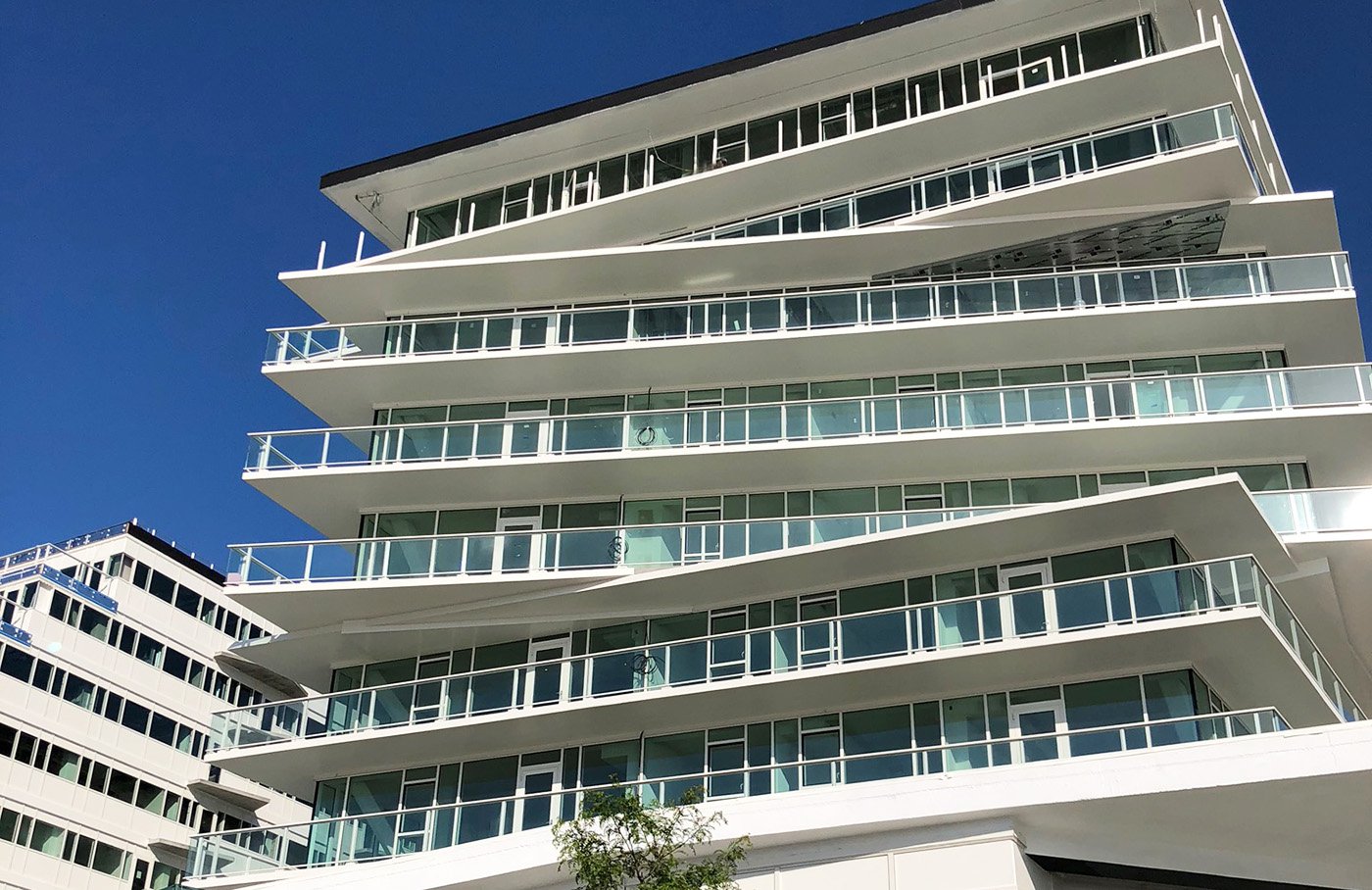 In recent years, a growing body of knowledge has focused the attention of architects, developers, contractors and structural engineers on thermal bridging and its effect on whole building energy use and condensation.
"Thermal bridging is caused by highly conductive elements that penetrate the thermal insulation and/or misaligned planes of thermal insulation," according to the "Building Envelope Thermal Bridging Guide" published by engineering firm Morrison Hershfield. "These paths allow heat flow to bypass the insulating layer and reduce the effectiveness of the insulation."
In the past, standard practice in the building industry tended to overlook the effect of thermal bridging, Morrison Hershfield reported. But research and monitoring of buildings in recent years has demonstrated the importance of reducing thermal bridging, which can cause the total heat loss through walls to be underestimated by up to 70 percent, Morrison Hershfield noted.
One study on the effect of thermal bridging on energy consumption was cited in the "Thermal Bridging Solutions" report published by the Thermal Steel Bridging Task Committee of the Structural Engineering Institute (SEI) and American Institute of Steel Construction (AISC).
The Task Committee indicated as much as four percent in annual energy savings can theoretically be realized if thermal bridging was considered when designing a three-story, 9,000-square-foot steel-framed, masonry clad structure used as a prototype for the study.
Bridges Come in Many Forms
Sources of thermal bridging cited by the Task Committee included half-inch steel plates and angle legs used to support masonry, cantilevered beams, steel roof penetrations and "any material that is more thermally conductive than the insulation that it bridges across."
"Concrete canopies and balconies, for example, can be responsible for a great deal of building energy loss," the Task Committee shared. "While not as conductive as steel, the cross-sectional area of a cantilever slab is much greater than the structurally equivalent area of a cantilever steel beam. In addition, the steel reinforcing bars in the concrete cantilever slab greatly increase the thermal transfer."
Window, roof and floor transitions were among the sources of thermal bridging cited in the 135-page "Thermal Performance of Facades" research report published by Boston-based architectural and design firm Payette.
"These assemblies tend to see comparatively high levels of thermal bridging and while they may not drive building heating and cooling loads, they can lead to performance concerns," stated an excerpt from the report that appeared on the Payette website. "In particular, the localized increased heat transfer associated with anomalous penetrations can lead to thermal comfort or condensation issues."
Citing research on window transitions and curtain walls, the Payette report noted that aluminum used for curtain wall frames is four times more conductive than steel.
"In terms of thermal performance, it is widely understood that windows are almost always inferior to walls," the Payette report acknowledged. "The poor performance of the area directly surrounding the window assembly is caused by both the structural requirements for supporting the window and the thermal, moisture and air barriers created by the difficult transition of the various materials."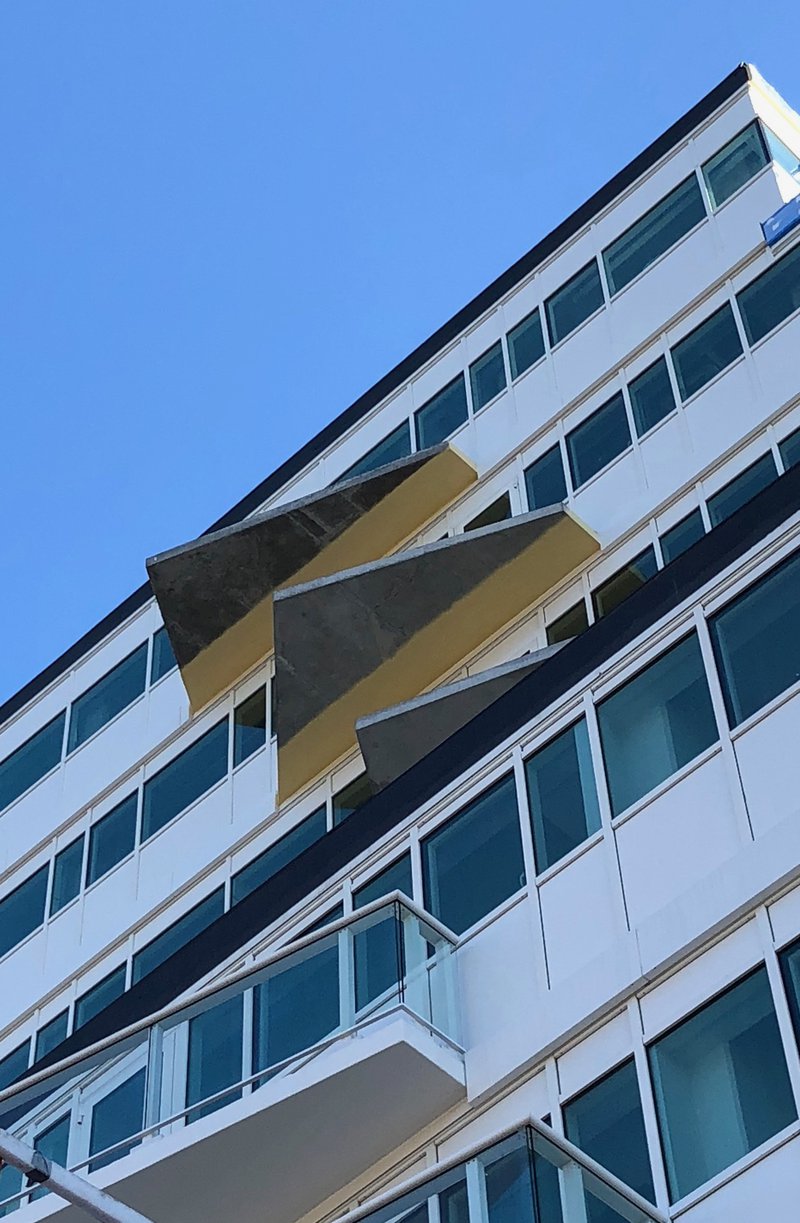 A Break from Thermal Bridging
During construction of the luxury Avora condominium project in the Port Imperial community of Weehawken, New Jersey, engineers and architects were concerned with thermal bridging around aluminum window and door frames and concrete balconies that encase the 11-story building.
In order to slow the transfer of heat and cold into the building envelope and decrease the potential for condensation and mold to form, the project team at CANY, an organization that specializes in building envelope systems, specified an insulated tape and fluid-applied insulation coating from Tnemec.
Series 945 Aerolon Tape is manufactured with a proprietary blend of insulative particles backed with a pressure-sensitive release adhesive and Series 971 Aerolon Acrylic is a high-build coating containing aerogel, which is the most effective thermal insulating additive available.
"The insulated tape represents new technology that prevents thermal bridging and the risk of condensation in architectural applications," explained David Pope of Righter Group, Inc. "The tape was used for cold weather application when surface temperatures were too low for Aerolon Acrylic to be spray-applied."
The use of a heat gun to activate the adhesive on the tape allowed it to be applied to colder surface temperatures. Two-inch-wide neoprene rollers were used to apply pressure on the tape during installation.
"The waterproofing contractor for the Avora project were familiar with installing self-adhesive membranes, so they were comfortable with applying Aerolon Tape," Pope observed. "The adhesive used on Aerolon Tape takes time to cure, which allowed the applicators to peel it back and reposition it on a substrate during installation. But after it has cured it won't come off."
"The window frames were 10-inches wide and the tape was 12-inches wide, which allowed some overlap," Pope recalled. "Aerolon Acrylic was spray-applied 24-inches up to and over the tape to provide a continuous insulation barrier. The coating was applied in two lifts for a total of 100 mils dry film thickness."
Located along the Hudson River Waterfront Walkway, the Avora offers 184 luxury residencies and duplex penthouses with unobstructed views of the riverfront and Manhattan skyline on two sides. The award-winning building features luxury amenities like a landscaped outdoor plaza with a sun deck, pool and area for grilling, an indoor lounge with bar and catering kitchen, on-site pet grooming, and strength and cardio fitness center.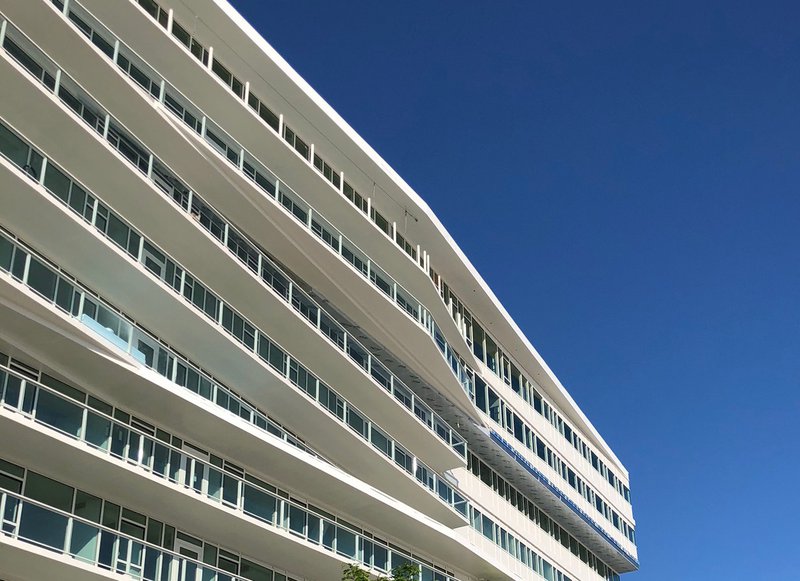 The Avora was named a Gold Award Community by the National Association of Home Builders at the International Builders' Show in 2018 where the project also received six silver awards. The previous year, Avora was recognized as "Community of the Year" by the New Jersey Builders Association.
Thermal Breakthrough
Pope emphasized that insulating tape and fluid-applied insulation coatings are innovative solutions that save labor and cost compared to other alternatives that may necessitate a physical break in the structural steel or other components. These options often require additional costs for fabrication, installation, bushings and washers needed for attachment and engineering time required to ensure the component is capable of supporting the load.
"The New York City area is a hub of innovation when it comes to adopting new technology for architectural applications," Pope added. "Eventually, innovative solutions like Aerolon Tape and Aerolon Acrylic are accepted and become standard practice throughout the commercial building industry."
---
Sustainable Building
Need Coatings for LEED Projects?
Tnemec offers a long list of low VOC coatings built to protect sustainable structures.
How to Purchase
Ready to Order Tnemec?
We're ready to help. Click below to learn more about our purchasing process.
E-News
Coating News Direct to Your Inbox
Stay informed about industry news and innovative coating products via email.