City of Bossier City, LA is the 2022 Tank of the Year Winner
Announcing the 2022 Tank of the Year Winner...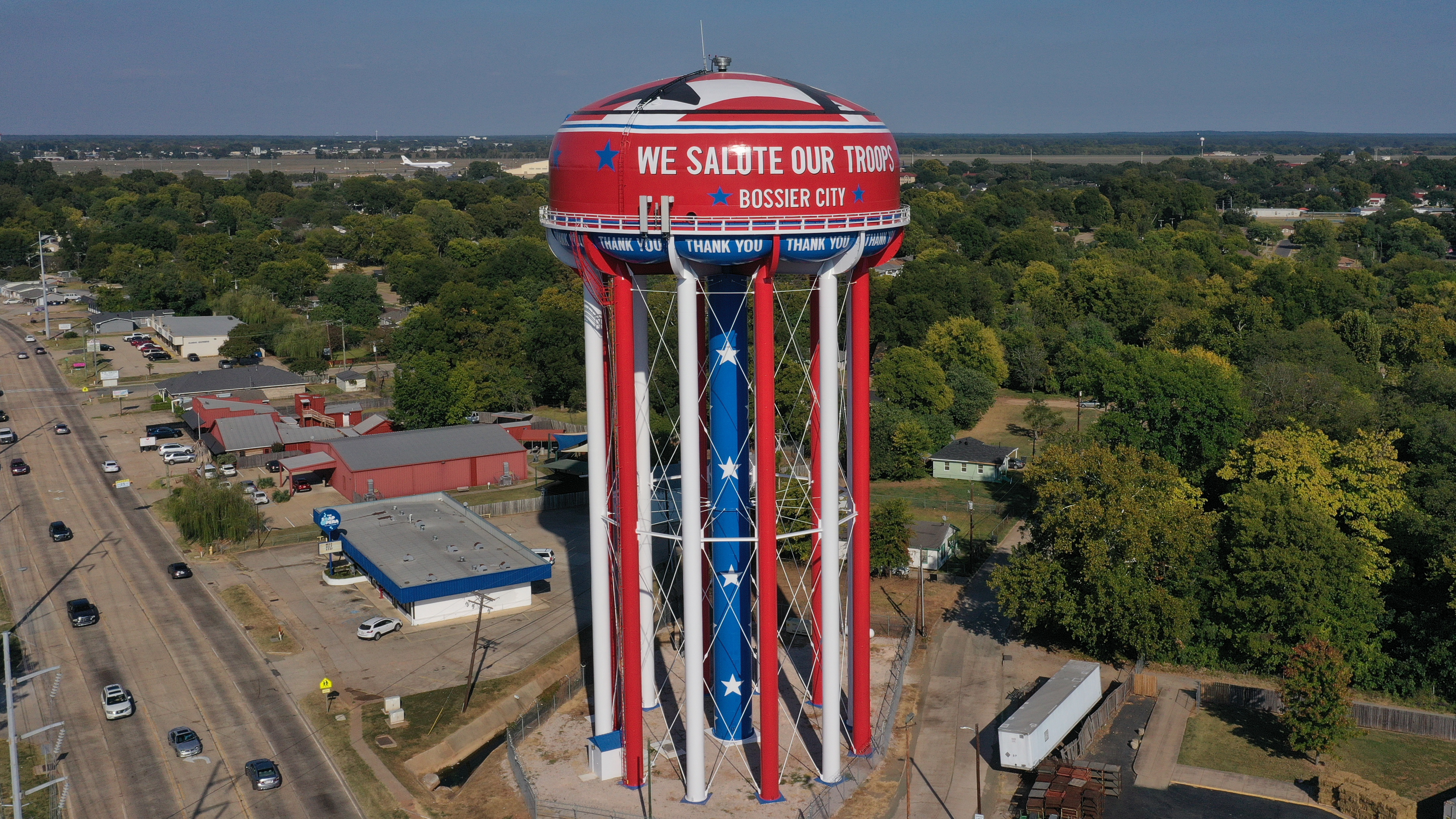 A municipal water tank in Bossier City, Louisiana is this year's winner of the Tank of the Year competition sponsored by Tnemec Company, Inc., a leading provider of high-performance coatings. The water tank was selected by a panel of water tank enthusiasts based on criteria such as artistic value, the significance of the tank to the community, and challenges encountered during the project.
The winning tank was painted with Tnemec's UV-resistant, long-lasting fluoropolymer finish, Series 700 HydroFlon, which will help the design look great for a long time in the Louisiana climate.
"The tank graphics were intended to make the most striking, bold, and bright statement embodying the spirit of Bossier City's community," explained Scott Keilbey, Director of Sales – Water Tank Market at Tnemec. "The tank displays quite the tribute to our troops and first responders."
Other water tanks among the top 12 finalists for 2022 are in Valley Center, Kansas; Port O'Connor, Texas; Dothan, Alabama; Moorhead, Minnesota; Hackensack, Minnesota; Gentry, Arkansas; Oconomowoc, Wisconsin; Groveland, Florida; Crawfordsville, Indiana; St. Croix Falls, Wisconsin; and Pensacola Beach, Florida.
Over 350 water tanks were nominated with thousands of online votes cast this year from across the U.S. and Canada. Valley Center, Kansas was the winner of the People's Choice competition, with an outstanding 3D honeycomb motif created by a local group of urban artists.
"Since 2006, Tnemec has been recognizing municipalities for their aesthetic, creative, and innovative uses of our high-performance coatings on water storage tank projects," Keilbey added. "This year's finalists represent several different types of water tanks in various shapes and sizes, all of them impressive for one reason or another."
As the winner of Tank of the Year, Bossier City's tank will be featured in the month of January in Tnemec's 2023 water tank calendar. All finalists and nominees will be included in the following months of the calendar.
To request a free 2023 Tank of the Year calendar, visit tankoftheyear.com.
E-News
Coating News Direct to Your Inbox
Stay informed about industry news and innovative coating products via email.
Contact Your Rep
Looking for Some Local Coatings Guidance?
Reach out to one of our knowledgable and reliable representatives near you.
Industries
Coatings for Your Industry
Tnemec provides protective coatings in various industries around the world, from wastewater to architecture.